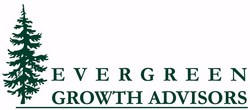 Chicago, IL (PRWEB) September 21, 2010
Evergreen Growth Advisors is excited to announce the release of its Sales Operations Assessment, enabling Sales leaders to swiftly identify opportunities to improve their Sales Operations capability.
Sustaining growth remains the dominant issue for most management teams. Yet, many Sales leaders focus haphazardly on driving profitable growth and lack the operational capability to sustain it, says Tom Knight, Evergreen's co-founder. As a result, few Sales leaders build plans that consistently align Strategy, Organization, and Execution, or are capable of adapting quickly and effectively to market changes.
According to Erik Birkerts, Evergreen's co-founder, if Sales leaders cannot confidently answer all of the following questions, their revenue is at serious risk and Sales Operations capability deserves a close inspection:

What is the total sales potential of each product/service by target customer segment, and what factors drive demand?
Which sales channels provide the best access, based on customer preferences, to target segments, and what is the profitability of each channel?
Are we gaining most of our revenue from customer segments that are most profitable for our business model?
Has sales implemented a strategy that clearly notes which accounts to Win, Grow, Own, and Exit in each territory?
Have we allocated enough sales capacity to the highest value accounts?
Are our sales processes aligned with how customers want to buy?
To learn more about Evergreen's assessment, click here and visit What's New.
About Evergreen Growth Advisors: Evergreen helps its clients achieve more predictable and sustainable revenue growth. Evergreen is expert at working with executive teams to identify new market opportunities, define market penetration strategies, and maximize the effectiveness of direct sales forces and indirect distribution channels.
Its partners are accomplished at creating profitable revenue growth and have done so both as operating executives and as external advisors. The firm excels at working collaboratively with senior leadership teams to deliver practical solutions that provide meaningful, lasting value. To visit Evergreen online, click here.
# # #