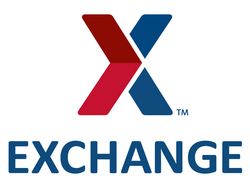 "The Exchange wants to build a lifelong emotional connection so that they can continue to give back quality-of-life benefits to the local military community." -Brian Shafley, Chute Gerdeman president and design leader on the Exchange project
Oklahoma City, OK (PRWEB) September 17, 2010
With the cutting of the ribbon at Tinker Air Force Base today, a brand new Exchange experience begins, as The Army & Air Force Exchange Service (AAFES) unveils an ambitious new brand and store concept.
A team of best-in-class experts, including brand and design consultant Chute Gerdeman Retail, project management firm Jones Lang LaSalle and multi-media consultant Mozaic collaborated with the Exchange to create the dramatic new brand identity.
The new corporate brand will simply be called the Exchange. The new tagline, "You Save, We Give Back," emphasizes the organization's competitively low prices and mission to provide annual dividends to the Army's Morale, Welfare and Recreation and Air Force Services programs. The Exchange gives back to the military community with every transaction and is a gathering place for its shoppers and their families.
With the launch of the new retail concept, military shoppers will enjoy a world-class experience that offers everything they need to outfit themselves and their families' unique lifestyle. The Exchange needed an update to be their customers' number one choice in today's competitive retail marketplace in-store and online.
"The reason the Exchange rebranded was simple—to communicate to their customers that they are here, ready with a new shopping experience, providing them with everything they need to outfit their unique military lifestyle," said Brian Shafley, Chute Gerdeman president and design leader on the Exchange project. "They want to build a lifelong emotional connection so that they can continue to give back quality-of-life benefits to the local military community."
Although the Tinker AFB Exchange is the first to feature the completely new design, layout and graphics plans are in the works to expand throughout its extensive network. One of America's largest and oldest retailers, the Army & Air Force Exchange Service was established in 1895 and operates more than 3,100 facilities worldwide, in more than 30 countries, five U.S. territories and all 50 states.
The Brand
The Exchange worked closely with Chute Gerdeman to undertake an extensive evaluation of its brand. The results were clear: Consumers see exchanges as their stores, regardless of the branch of service, military rank or status and location. Taking that to heart, the store brand is now the Exchange, eliminating previously-used names such as PX, BX, or "AAFES store."
The new logo is graphically powerful, instantly identifiable, dimensional and meaningful:

Two colors suggest the Army and Air Force coming together
Exchange applies equally to both Army and Air Force
The logo forms an "X," which is visual shorthand for Exchange
Red arrow suggests forward progress
"The Exchange exists for men, women and families who live a distinctively different life: ready to serve, ready to move, ready to respond at a moment's notice," said Mat Dromey, the Exchange's chief marketing officer. "The Exchange embodies American Readiness like no other business can because we live our customers' lives; we go where they go."
The Store
A new entryway, flanked with a Mall of Honor saluting the Tinker AFB community, signals the store's transformation. Inside the store, the Customer Service area has been relocated to the very front. Greeted with a large "Hello" on the wall, customers will find an all-new look for this area—bright and friendly, reinforcing the Exchange brand and mission.
"We took the best parts about the Exchange—like its people—and put them right at the front of the store, ready to serve any customer need," said Shafley. "And we have made shopping more convenient by making the store design cleaner, friendlier, and more inspiring to shop."
The Entry Zone introduces the customers to the store's three key worlds: Home, Life and Style, each presenting collections of merchandise for every aspect of their military lifestyles. The unique V-aisle layout is designed to invite customers toward key lifestyle destinations in the rear corners of the store. Many of the best-known fashion brands are presented in individual style shops featuring updated visual merchandising fixtures and vibrant lifestyle graphics.
The new store design:

Provides customers with a fresh, updated, inspiring shopping experience
Combines lively colors and lifestyle imagery, bold shop design statements, shiny polished floors and a new way to navigate through the store
Includes improvements in the mall and food court with updated finishes, kiosks, furniture, kids' zone and branded decor
The new Cherish fine jewelry department features a case-line in a deep, rich wood-tone finish anchored with an overhead arch frame and sets the tone for an all new prestigious look for this key department. An engagement diamond bar invites customers to sit down and relax as they browse the large assortment.
An updated approach to cosmetics features individual cosmetic brand zones, and a contrasting Beauty Bar presents the latest cosmetic products available today in an interactive studio setting.
Appealing to the very active lifestyle of its customers, the BeFit zone is a prominently featured destination department. In this shop, athletic apparel, footwear, fitness equipment and nutrition products feature all the top fitness brands. Nearby is a new Firearms and Ammunition shop for hunting and sport shooting enthusiasts.
Creating a true Welcome Home statement, the furniture department is anchored with a centerpiece model showroom space presenting the latest room setting styles amid a collection of current home decor offerings and lifestyle inspiration imagery.
The store's primary destination however is the new high-energy Powerzone, which includes a gaming pod, "power brand" features, an enhanced HDTV wall and centrally located Ask an Expert counter, as well as dedicated computer, camera and entertainment zones.
A lifelong connection
The new Exchange at Tinker AFB is the result of an aggressive, 116 day, 24/7 renovation, utilizing 75 to 100 workers, store team members and teams from the Exchange's Dallas headquarters all working to build and re-merchandise every inch of the 174,015 square feet of retail space.
"We know our customers have many shopping choices," said Dromey. "Our ambitious new store concept takes the best of what's out there in retail today and pulls it all together in one place, custom-designed for our customers' military lifestyles."
About Army & Air Force Exchange Service
The Army & Air Force Exchange Service is a joint command of the U.S. Army and U.S. Air Force, and is directed by a Board of Directors who is responsible to the Secretaries of the Army and the Air Force through the Service Chiefs of Staff. The Exchange has the dual mission of providing authorized patrons with articles of merchandise and services and of generating non-appropriated fund earnings as a supplemental source of funding for military Morale, Welfare and Recreation (MWR) programs. To find out more about the Exchange's history and mission or to view recent press releases please visit our Web site at http://www.shopmyexchange.com/pa/default.asp .
About Chute Gerdeman Retail
(Brand and Design Consultants)
Chute Gerdeman Retail is a full-service retail branding and design firm with 40+ employees, emphasizing the power of strategic design to shape clients' brands and inspire their customers. Since 1989, Chute Gerdeman has created retail brands, their identities, their environments and every other customer touch point. The firm's client list includes: the Army & Air Force Exchange Service, C&A Brazil, Delaware North, Kohl's, Levi Strauss, Mattel (Barbie Shanghai), M&M's World, RadioShack, Target and West Marine. Clients benefit from a fully integrated process that utilizes a seamless blend of disciplines: research, brand strategy, brand communication, environmental design and implementation to create compelling, strategic, workable, cost-effective design solutions. With more than 150 awards including four "Store of the Year" awards, the firm has become one of the most respected design firms in the industry.
About Jones Lang LaSalle
(Project Management)
Jones Lang LaSalle Americas, Inc. is a financial and professional services firm specializing in real estate services and investment management. Their more than 33,800 people operating in 750 locations in 60 countries serve the local, regional and global real estate needs of those clients. In response to changing client expectations and market conditions, they assemble teams of experts to deliver integrated services built on market insight and foresight, sound research and relevant market knowledge. Project management is a primary service offering of Jones Lang LaSalle, with 2,800 retail project managers globally and 500+ LEED-accredited professionals in support of retail programs.
About Mozaic
(Advertising, Multi-media, and E-commerce Consultants)
Mozaic's family of companies includes creative and strategic agencies, high-end imaging studios, and an interactive group. The partners and companies of Mozaic first joined forces in 2003. They assure that a concept can be executed in real world applications. Mozaic's marketing communication capabilities touch all aspects of creative development and design, strategic consultation, branding, advertising, sales promotion, packaging and advertising production, interactive and rich media development, copywriting, photography, digital printing services, and technical solutions. Mozaic employs more than 120 top creative, production and technology professionals.
Chance Construction Co. served as the general contractor.
MS Consultants provided MEP engineering services.
###