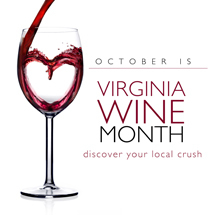 "For visitors to Virginia, enjoying locally-made wines, great festivals and stunning landscapes is a highlight of the fall season."
Richmond, VA (PRWEB) September 20, 2010
October Virginia Wine Month is just around the corner and wine lovers everywhere are getting ready to celebrate. Discover Your Local Crush is the 2010 theme for Virginia Wine Month, promoting locally-produced wine at more than 160 wineries statewide. October is traditionally harvest time at wineries and vineyards, as winemakers bring in the fruit off the vines. Virginia will celebrate October Virginia Wine Month at dozens of festivals, special tastings and tours across the state throughout the month.
"We look forward to October Virginia Wine Month each year. It is a time that Crush is well underway throughout the Commonwealth and growers and winemakers are able to get a true look at what this vintage will be. The caliber of wines being produced across the Commonwealth is truly outstanding and just gets better every year! Additionally, the scope and variety of Virginia wine events offers people a unique opportunity enjoy the rich fall beauty of Virginia. The cooler weather provides an excellent time to savor Virginia's wines and many other local food products from the harvest," said Rock Stephens, Chairman of the Virginia Wine Board.
October Virginia Wine Month began in 1988 as a way to support the state's young wine business - just 40 wineries at the time - and promote wine travel in Virginia. Today, Virginia is home to more than 160 wineries and 16 wine trails statewide, with approximately one million visitors including a visit to a winery while vacationing in Virginia. The Commonwealth is fifth in the nation for wine production with the wine industry generating $361.8 million in income annually. In 2007, Virginia was named one of the top five up-and-coming wine regions in the world by Travel + Leisure magazine.
"October is a beautiful month to travel in Virginia, as fall foliage comes into color and we celebrate the harvest at wineries across the state," said Alisa Bailey, president and CEO of the Virginia Tourism Corporation. "For visitors to Virginia, enjoying locally-made wines, great festivals and stunning landscapes is a highlight of the fall season."
Start planning a wine month getaway today and get set to sample varietals as Virginia wineries celebrates the harvest. Select October Virginia Wine Month events are listed below, with more at http://www.VirginiaWine.org. Find more information on wine travel in Virginia including travel packages and deals, visit http://www.Virginia.org/wine
Yorktown Wine Festival - Yorktown
Date: October 2, 2010
Historic Yorktown at Riverwalk Landing will be the site of the 2010 Yorktown Wine Festival. Twenty-one Virginia wineries will be at the festival along with art and food vendors and entertainment. Following the festival, eight of the wineries will participate in a wine dinner at Nick's Riverwalk Landing Restaurant.
Admission Fee: $25
The 10th Annual Norton Wine & Bluegrass Festival – Middleburg
Date: October 2 - 3, 2010
Visit Chrysalis Vineyards, the world's largest grower of Norton, Virginia's native grape, during harvest and enjoy live bluegrass music; food from "BBQ King"; cheese and chocolates from Virginia's premier producers; jewelry and art from top-notch artisans; hay-rides through the vineyards and a special nine-wine tasting.
Admission Fee: $20 day of/$15 advance
Wines and Wags at Lexington Valley Vineyard - Rockbridge Baths
Date: October 8, 2010
Join other dog lovers for a waggingly good time at Lexington Valley Vineyards "Wine and Wags". Relax and stroll through the vineyards with your pet while enjoying unique Virginia wines. Bring a picnic lunch or purchase snack baskets. Water and biscuits are also available for Fido.
Admission Fee: Free
Chateau Morrisette Black Dog Wine & Beach Festival - Floyd
Date: October 9, 2010
Château Morrisette, located just off the Blue Ridge Parkway, offers an elegant setting with a timber frame winery building, restaurant, courtyard and gardens. Two musical acts will perform and artists, crafters and vendors will be on site for shopping around and plenty of great food. Pull out a lawn chair, pack some dancing shoes and sunglasses and prepare for a relaxing fun-filled afternoon in the Blue Ridge Mountains.
Admission Fee: $15/advance; $20/gate; Children and young adults accompanied by an adult are admitted at no charge.
Virginia Wine and Garlic Festival – Amherst
Date: October 9 - 10, 2010
Embrace food, wine, live entertainment, arts, crafts and garlic at Rebec Vineyards' annual event! The festival provides the opportunity to see over 150 different arts, crafts and specialty foods. Wine tastings are available from six local wineries. There are five stages with constant music and entertainment, including garlic cooking and contests.
Admission Fee: Wine Tasting/$18 in advance / $25 at the gate; General Admission: $14 in advance/ $20 at the gate; Children 12 and under: free.
River City Wine Festival - Waynesboro
Date: October 9 - 10, 2010
Plan a beautiful evening along the shore of the South River in downtown Waynesboro, Virginia with wine tastings from the Shenandoah Valley's premier wineries, live Jazz and gourmet food vendors. Check out the Virginia Fall Foliage Art Festival and Crozet Art Festival during the day and enjoy the River City Wine Festival in the evening.
Admission Fee: $15.
Fredericksburg Area Wine Festival – Fredericksburg
Date: October 9 - 10, 2010
Celebrate the 20th anniversary of the Fredericksburg Area Wine Festival. Six Fredericksburg area wineries, two guest wineries and more than 80 varieties of Virginia wine will be available to sip and purchase. Blue and Gray micro-brewery will also be included in the festival, as well as 35 crafters and food vendors, live music and children's activities.
Admission Fee: $15/advance; $20 gate (Free admission to retired and active military personnel with ID).
Old Town Alexandria Wine Festival - Alexandria
Date: October 9 - 10, 2010
Alexandria is set to swirl, sip and sizzle as the award-winning wine makers of Virginia converge in Old Town for a grand tasting of 250 Virginia artisan wines. Taste the best of Virginia's farm wineries and participate in culinary seminars featuring top chefs and sommeliers at the Alexandria Crowne Plaza Hotel.
Admission Fee: $30 online
Hot Air Balloon, Wine & Music Festival - Millwood
Date: October 15 - 17, 2010
Sip vintages from a varied selection of Virginia wineries at this three-day family celebration held on the spacious lawns and rolling fields of Long Branch. The festival brings balloonists and their colorful airborne craft from far and wide to delight spectators of all ages. In addition to the balloons, the event provides a wide variety of entertainment over the weekend.
Admission Fee: Prices vary. Visit http://www.historiclongbranch.com/balloonfest/ for pricing information.
Town Point Virginia Wine Festival, 23rd Annual – Norfolk
Date: October 16 - 17, 2010
The downtown Norfolk waterfront hosts one of the state's largest outdoor wine festivals featuring more than 30 Virginia wineries. The musical sounds of Lewis McGehee will drift through the air as wine lovers sample a variety of wines and enjoy gourmet, made-in-Virginia food items and onsite retailers for specialty crafts and wine accessories.
Admission Fee: Ticket Required. Visit http://www.festevents.org/tickets.php?ticket_event_id=6
for ticket prices and to purchase tickets online.
Powhatan's Festival of the Grape- Powhatan
Date: October 23, 2010
Visit historic Powhatan and taste wines from 25 Virginia wineries and savor scrumptious, regional food at this lively community festival south of Richmond. The event will offer more than 100 juried arts and craft vendors and a variety of live entertainment. Now in its eighth year, this event offers wine tastings (included with admission), wine by the glass and bottle purchases.
Admission Fee: $20 adult
Love is at the heart of every Virginia vacation. For more information about travel and wine destinations in Virginia, visit http://www.Virginia.org/wine or call 1-800-VISITVA for a free, Virginia is for Lovers travel guide.
###