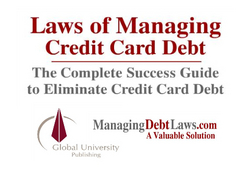 It is an important solution that helps you improve your financial well-being and avoid a lifelong burden of credit card debt
Chicago, IL (PRWEB) September 21, 2010
ManagingDebtLaws.com has recently published a new book, "Laws of Managing Credit Card Debt," focusing on supplying audiences with strong personal values that shows them how to get out of credit card debt and manage their finances.
This book is meant to educate consumers and help them get out of debt faster with proven debt reduction strategies. And increase their purchasing power and economic value with the financial guidance this book provides.
"It is an important solution that helps you improve your financial well-being and avoid a lifelong burden of credit card debt."
The guidelines presented in "Laws of Managing Credit Card Debt" help to teach debt reduction strategies and the methods of applying them. It is necessary to use these strategies in everyday life to prevent a potentially, overwhelming amount of credit card debt.
"Reducing your debt can help improve the quality of life," says Accountant, K. D. Nelson "You are guaranteed to succeed after gaining a working knowledge of the principles that help you stay out of debt."
For more information on the "Laws of Managing Credit Card Debt" book please visit ManagingDebtLaws.com.
ManagingDebtLaws.com provides an educational resource with a solution to help consumers save money and payoff their credit card debt.
###