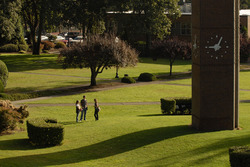 I believe our enrollment increase can be attributed to a number of factors, including continued national recognition of our programs, increased awareness of George Fox in our region, and prospective students' understanding and valuing our mission and vision as a Christian institution
Newberg, Ore. (Vocus) September 17, 2010
George Fox University broke its enrollment record this fall and welcomed a freshman class with the best academic credentials since 2003.
A record 3,484 students – including 655 new traditional undergraduate students – enrolled in the private Newberg, Ore., university this fall, marking a 3.3-percent increase over last year's 3,368 total. The academic quality of students also increased, as the average freshman recorded a 3.6 high school grade point average and a 1,113 SAT score.
George Fox also continued its recent trend of enrolling more students from diverse racial and economic backgrounds. Nearly 30 percent of new undergraduate students are non-white domestic students (20 percent) or international students (8 percent). By comparison, George Fox's ethnic minority population in 2006 was 12 percent.
The school also enrolled students from economically diverse backgrounds, with nearly one-third (30 percent) of the incoming class receiving Pell Grants. The federally sponsored program offers need-based grants to low-income college students, most of whom come from families that make less than $20,000 annually, according to the U.S. Department of Education. Last month, George Fox was ranked by U.S. News & World Report magazine as one of the most economically diverse institutions in the National Universities category, ranking 77 out of 266.
With overall enrollment breaking the 3,400 barrier for the first time, George Fox is more than six times larger than it was in 1986, when 549 students attended.
The record incoming class and a strong 84-percent freshman-to-sophomore retention rate led to a record 1,863 traditional undergraduates. Another 260 enrolled in adult degree-completion programs. The traditional undergraduate total marked an 8.82-percent increase over the fall of 2009 (1,712). The 655 new students also was a record and marked a 21-percent increase over the previous year's total (518). At the graduate level, the university's 16 graduate and seminary programs enrolled 1,361 students.
The high interest level in undergraduate programs necessitated the university create a wait list for the first time in school history. For this reason, students interested in enrolling for the 2011 academic year are encouraged to apply early. The university's early action application deadline is Dec. 1. Those who apply by that date will not be charged the $40 application fee and are eligible to participate in the university's scholarship competition.
The school's priority application deadline (March 1 for transfers) is Feb. 1. Any application completed after that date will be considered on a space-available basis, according to Ryan Dougherty, director of undergraduate admissions.
"I believe our enrollment increase can be attributed to a number of factors, including continued national recognition of our programs, increased awareness of George Fox in our region, and prospective students' understanding and valuing our mission and vision as a Christian institution," said Dale Seipp, vice president for enrollment services.
Fall semester for traditional undergraduates began Monday, Aug 30. The university determines official enrollment based upon students registered on the 10th day of classes.
George Fox University is ranked by Forbes as the top Christian college in the Pacific Northwest and among the highest Christian colleges in the country. George Fox is the only Christian university in the Pacific Northwest classified by U.S. News & World Report as a national university. More than 3,400 students attend classes on the university's campus in Newberg, Ore., and at teaching centers in Portland, Salem, and Redmond, Ore., and Boise, Idaho. George Fox offers bachelor's degrees in more than 40 majors, degree-completion programs for working adults, five seminary degrees, and 12 master's and doctoral degrees.
Contact:
Rob Felton
Department of Marketing Communications
503-554-2129
# # #