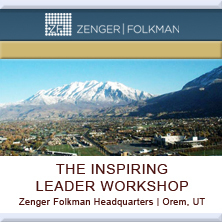 "Simply put, inspiring leaders motivate others to reach higher levels of performance, thus driving organizational success."
Orem, UT (PRWEB) September 18, 2010
Zenger Folkman is pleased to announce the upcoming session of The Inspiring Leader Workshop™, its latest leadership development program. Leadership experts Drs. Jack Zenger and Joe Folkman will facilitate the session on October 21, 2010 in Orem, Utah.
The Inspiring Leader Workshop will provide a way for learning and development executives to experience Zenger Folkman's one-day interactive, instructor-led workshop. Delivery mechanisms include a personal self-assessment, experiential learning, short lectures, group discussions and practice sessions with feedback in order to engage and educate established and emerging leaders.
Based on research conducted by Drs. Jack Zenger and Joe Folkman, this program draws on data from more than 200,000 individuals who rated more than 25,000 leaders in a wide range of companies and industries. The findings form the basis for the recent book The Inspiring Leader (McGraw Hill, 2009) in which the competency "inspires and motivates to high performance" is identified as the single most important trait for a leader to possess.
"What does this mean for you and your organization?" asks Jack Zenger, co-founder and CEO of Zenger Folkman. "Simply put, inspiring leaders motivate others to reach higher levels of performance, thus driving organizational success. This includes improving employee satisfaction, increasing engagement and commitment, boosting employee productivity, encouraging innovation and increasing profitability."
The Inspiring Leader Workshop presents a proven framework for helping individuals make a profound difference in their own effectiveness and performance, and the success of the organization. In the workshop, participants will:

Recognize the positive business outcomes resulting from an inspired workforce
Learn and apply the 10 attributes and behaviors of inspiring leaders
Discover the six approaches the most effective leaders use to inspire
Identify their preferred approach to inspire others
Recognize the importance of and learn how to make genuine emotional connections in the workplace
Understand the variety of ways in which people are inspired
Build an individualized inspiration action plan
After completing The Inspiring Leader Workshop, participants will come away with the competence, tools, and motivation to inspire direct reports to higher levels of engagement, commitment, and productivity.
If you are a key decision maker in your organization and looking to drive positive business results, you are invited to experience The Inspiring Leader Workshop and witness how the leaders in your organization can become more inspiring.
For more information and to register for The Inspiring Leader Workshop, visit the Zenger Folkman events page or call Zenger Folkman at 801-705-9498. The workshop will be held on October 21, 2010 at Zenger Folkman headquarters in Orem, UT.
About Zenger Folkman
Since 2003, Zenger Folkman has been providing leadership and performance development that directly drives an organization's profitability. Founded on pioneering, empirical research using 360-degree assessments and other surveys, Zenger Folkman has built one of the world's largest collections of leadership research data. Based on that data, Zenger Folkman has crafted a set of practical and provable techniques that focus on building strengths in today's modern business environment. Using implementation tools, personalized coaching and more, its approach lifts the performance of leaders, coaches and individual contributors to deliver today's most sensible and flexible leadership training programs.
###