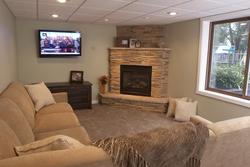 We wanted a warm and cozy space, but our walkout basement was the exact opposite
Minnesota (Vocus) September 16, 2010
Just in time for chilly fall nights, Bob and Nicole Berg of Blaine, Minn., recently won the 2010 Fireplace Facelift Contest, which is conducted annually in Minnesota by Fireside Hearth & Home. This past spring, they entered the contest by submitting a "before" photograph of a dated fireplace in their basement, along with a short statement about why they wanted to give it a facelift. Out of more than 300 entries, the Bergs won the contest. Since that time, the Berg's fireplace was removed and replaced by a new Heat & Glo 32-inch SL-550 Slim Line furnace-rated direct vent gas fireplace. The prize package also included a new mantle, stone surround and a Best Buy LCD TV. The Berg's total prize package is valued at $5,600.
According to the Bergs, baby number two was on the way and they needed additional living space. "We wanted a warm and cozy space, but our walkout basement was the exact opposite," Nicole Berg said. "The gas fireplace we had was inefficient and in desperate need of updating. We really wanted the extra heat so that we could use the basement year-round." After the Berg's old gas fireplace was removed, they had a transformed space within a few days. "Now our basement is warm and inviting," she said. "We are looking forward to snuggling up as a family to read books and watch movies while enjoying the glow and warmth of a fire."
"Gas fireplace technology has improved dramatically in the past 10 years," said Joel Ginsberg, division manager of Fireside Hearth & Home. "The flames are larger, the logs glow, the ember beds are illuminated and the fireboxes have LED lighting for beautiful accents. Heat & Glo invented direct vent gas fireplaces in the mid-1980s, and now they have perfected them with ambiance that so closely replicates real wood-burning fireplaces, it's hard to tell the difference."
"Nine times out of 10, when homeowners come into our showroom and see these new gas fireplaces burning, they want to replace their existing gas fireplaces," said Ginsberg. Replacing a dated gas fireplace with one of today's beautiful and efficient models can cost as little as $3,500, including installation.
In addition to beauty, the Berg's new gas fireplace has brawn. Because it is furnace rated and 75 percent efficient, it can help the Bergs reduce their heating costs during the cold winter months. Often referred to as "zone heating" with a fireplace, the concept is simple. It involves turning down the temperature on the home's central thermostat and heating the areas where people spend the most time with a fireplace or stove.
Fireside Hearth & Home conducts the Fireplace Facelift Contest annually, providing a lucky Minnesota homeowner with either a fireplace where one didn't exist before, or an upgrade to an existing fireplace. The Bergs worked with the Roseville Fireside Hearth & Home location to design and install their new fireplace.
High resolution "before" and "after" of the Berg's basement and fireplace are available here:
Before: http://farm5.static.flickr.com/4092/4996753622_6c47312c25_m.jpg
After: http://farm5.static.flickr.com/4132/4996151095_6e0e693eb0_m.jpg
About Fireside Hearth & Home
Fireside Hearth & Home is the retail and distribution division of Hearth & Home Technologies, the world's leading provider of whole hearth systems including fireplaces, stoves and inserts. Fireside Hearth & Home offers more than 50 years of hearth experience, as well as the strongest brands in the industry with Heat & Glo®, Heatilator® and Quadra-Fire®. It is America's #1 destination for fireplaces, stoves, fireplace inserts and hearth accessories. For more information on Fireside Hearth & Home visit http://www.fireside.com.
###