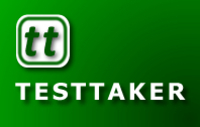 Washington, DC (PRWEB) September 18, 2010
Dantech Corporation Inc unveiled TestTakerOnline.com, an innovative, automated, intelligent testing platform specially designed by seasoned IT credentialed professionals, for preparing individuals who aspire to perform well on technical certification exams and interviews.
IT professionals or those desiring to become IT professionals can attest first hand to the ever increasing competitive IT job market due to the globalization (i.e., outsourcing) and the accelerating swiftness with which new technology or tools are being created. These two factors alone have created a mind-boggling rapid evolution that has completely and irrevocably altered the IT job market since the late 90s. It used to be very easy to obtain an IT job, promotion, or high salary when there were very few tools and very few qualified individuals. Now, there are too many options and too many capable bodies competing for the same job, promotion, and high salary. The competition may not even be in your geographic location or human. The competition may come from abroad. The competition may come from a new technology tool.
So how does one stay ahead? How should IT professionals keep themselves current? How should those trying to break into the IT industry make themselves more attractive as candidates when they lack experience? The answer is education. More specifically, the way to stay current and standout in the sea of eligible IT job candidates is through technical certification. TestTakerOnline.com is designed to prepare individuals for IT certifications and interviews.
But this is not your average, run-of-the-mill preparation website that offers access to a bank of certification quality exam questions and/or flashcards. TestTakerOnline.com has an automated intelligence engine under the hood. It uses an artificial intelligence approach to learn the areas in which an individual is weak or knows very little. It then focuses on those areas until the individual continually performs better. It interacts with site users by testing. The more tests an individual takes, the more TestTaker learns about that individual. TestTaker then uses this knowledge to custom create tests for users.
How does TestTaker benefit its users? Users get a unique experience. TestTaker custom tailors its tests to provide a way to help each and every user prepare for their upcoming IT certification exam or interview. So, no one size fits all. It's kind of like having a personal tutor 24x7.
Additionally, TestTaker tests in the same format and layout as real IT certification exams. So, there will be no suprises or discomfort on test day. Those using TestTaker to prepare for an interview will be completely confident in answering technical questions since TestTaker will be more challenging than the actual interview questions. Lastly, but most importantly, is the cost. TestTaker costs very little compared to the price of most certification exams. While using TestTaker, the idea is to test often and frequently. This is something that cannot be done with certification exams; and, quite frankly, it would be very expensive. The cost of not doing well on a technical interview is immeasurable but; suffice it to say, it would be unfortunate to miss an opportunity simply due to being unprepared.
TestTaker went live in May 2010 but was not publicized and used little to no marketing. This was purposely done to study how well the website performed with very few users. TestTaker has now exceeded their goal of over 500 users and would like to officially launch their new website.
For more information about TestTaker's certification exam preparation and interview preparation solutions, please visit Visit TestTakerOnline.
###