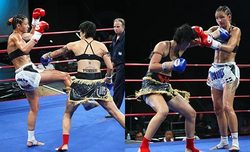 Burbank, CA (PRWEB) September 17, 2010
Champions of Champions elite presents another strong fight card and provides live updates from the Combat Games in Beijing.
SportAccord Combat Games Coverage
COC Elites coverage of the Combat Games in Beijing has completed and it was truly the event that everyone expected. The games exemplified the true dynamics of Martial Arts and the prominent spotlight on Muay Thai was truly noteworthy.
Four Time World Champion, Clifton Brown provided daily reports back to the http://www.coc-elite.com website daily so that members could get real time updates on all of the happenings. Many of the fighters representing Muay Thai and the WMC, such as Yodsaenklai Fairtex who will be featured on the September 24th broadcast of Champions of Champions Elite on G4, performed well in Beijing.
The opening night ceremony was truly a magnificent event. 1,020 top Martial Artists from 106 countries were represented in Beijing. Muay Thai is represented by 88 of their top fighters. The night included aerialists and dancers and lighting displays that lit up the Beijing night from the Olympic Stadium. It was an amazing start to the Games. Celebrates in attendance ran the gambit from Jet Li, Jackie Chan and Don "The Dragon" Wilson.
Jet Li was an honored delegate for Wushu and led the fighters into the Olympic Village. The hit of the night may have been Jackie Chan who sang the Games Theme Song, Tian Xing Jian. Before he could finish Chan was mobbed by the adoring fans in attendance.
Day three brought the preliminaries of the Muay Thai competition and it was evident from the first fight that Muay Thai brought the kind of matchups that were sure to catch the attention of everyone in the Martial Arts world.
During the Cultural Forum a special showing of the premier episode of Champions of Champions Elite was shown to dignitaries, from SportAccord, IFMA, Olympic Committee delegates and luminaries from across the world with tremendous response.
Day Four brought several exciting fights with a few controversies along the way as the fighters pared down to the finals.
Day Five Finals did not lack for excitement nor upsets. This was the night that the Muay Thai community has spent many months waiting for. Throughout the event, the Olympic Village was fueled by anticipation for several key match ups. The biggest fight being that of Yodsaenklai Fairtex of Thailand and Artem Levin of Russia. A fight that brought all the excitement promised.
Day Six brought the closing ceremonies and medal awards program. The spectacle and scope was every bit as impressive as the ceremonies of the Olympic games themselves and served to show the world that Muay Thai and all of the other Martial Arts sports could hold their own among the sports world's elite.
The SportAccord Combat Games proved to be a major success for Muay Thai. The event brooked no quarter in the scope and majesty in which Muay Thai was presented on this unprecedented world stage. The games showcased the beauty, skill and grace of a Martial Arts form centuries rich in tradition. In one week, Muay Thai was able to grasp the hearts and minds of dignitaries from the world of sports, politics and entertainment never before afforded, and the end result was an even greater respect of all the values that Muay Thai represents. The Combat Games fully lived up to its unofficial title of the Olympics of Martial Arts.
Check out the http://www.coc-elite.com website for detailed reports on the action from the Olympic Village venues. Join the website for behind the scene news and clips of Clifton Browns live reports from Beijing.
Fighter Profiles for September 24th Champions of Champions Elite
This card brings to the COC Elite series two fights that have the Muay Thai world fascinated. This card features two of Muay Thai's most coveted Female fighters in Julie Kitchen and Angie Parr. Both holders of multiple title belts over their careers, these two dynamic ladies bring grace and elegance to Muay Thai as well as supreme skills. The other bout on the card features true legends in Muay Thai, Yodsaenklai Fairtex vs. Cosmo Alexandre.
Yodsaenklai Fairtex vs. Cosmo Alexandre for the WMC 160 Pound World Title
Yodsaenklai Fairtex: 165 Wins – 67 Losses – 61 KO's
Yodsaenklai is a 3 time Lumpinee Stadium Champion and a four time World Title Championship belt holder. He also was the first Champion of the Contender Asia series. Known reverently by fellow competitors around the world as "Yod", he is respected and feared for the power of his kicks and lethal hands and elbows.
Yodsaenklai began fighting at 8 years old following his older brother into the infamous gyms of Thailand. Yodsaenklai won his first championship in the acclaimed Lumpinee tournament where he defeated Riuankaew S. Boonya for the vacant Lumpinee 147 pound Title.
Yodsaenklai also competed in Champions of Champions I with an impressive TKO in the third round over then rising star Malaipet Team Diamond. Yodsaenklai comes into this fight riding an amazing winning streak of nine fights.
Cosmo Alexandre: 29 Wins – 10 Losses – 10 KO's
Born and raised in Santos, Brazil, Cosmo is an accomplished Kick boxer and Martial Artist. Cosmo began training Muay Thai at 19 and is a two time World Title Holder. Cosmo brings quick hands and feet into the ring and is always a threat to end a fight quickly. Seven of his 10 knockouts have come before the third round.
Cosmos competitive spirit and willingness to get into the ring with the best in the world allowed him to take this fight on short notice after Artem Levin was unable to make this match.
As one of the stars to watch in Muay Thai, Cosmo comes into this fight after a Unanimous Decision over Murthel Groanhart. He hopes to walk away with what would be the most prestigious win of his career and bring him back to World Title Holder status.
Julie Kitchen vs. Angie Parr for the WMC Female Lightweight World Title
Julie Kitchen: 35 Wins – 8 Losses
One of the most sought after Female fighters in Muay Thai, Julie has held 7 World Titles and 12 Championships in her career. Julie exemplifies that a Woman can have a successful, fulfilling family life as well as be a respected fighter. Julie is the mother of twins, who appear to be following their Mother and Father into what has become the family business. Julies husband, Nathan Kitchen is the owner of Touchgloves Gym where he has trained many Championship fighters.
At 5'11" Julie can be an overwhelming presence in the ring. She is adept at utilizing her length to deliver devastating kicks and keep other fighters at bay with long straight punches.
Julie began training as a way to be closer to her husband as well as work off some unwanted weight after the birth of her twin daughters. She grew to love the sport so much that she has taken her involvement to heights that she never dreamed.
Julie returns to Champions of Champions to make up for what she has admitted was a disappointing loss to Germaine de Randamae at Champions of Champions I.
Angie Parr: 28 Wins – 5 Losses – 3 draws
Angie is as respected a Female fighters as you will find in Muay Thai. She is part of what many consider the Royal Family of Muay Thai along with her Husband John Wayne Parr, who also fought on the Champions of Champions II Card. Angie is a former World Title holder and is an 8 time National Title holder.
Angie began training in Muay Thai in 1997 in California and Las Vegas where she met John Wayne. She now lives and trains in Australia and is the mother of two children. They are owners of Boonchu Gym where they also train fighters.
Angie trains rigorously with her husband and feels that it prepares her for any challenge. She is a savvy technician and has garnered the reputation of being fearless in the ring.
She comes to Champions of Champions II with John Wayne to show that not only is she capable of becoming a World Title holder again, but also to prove to the world that the couples who train together succeeds together. She hopes to bring back Husband and Wife World titles to Australia.
Join Risarc Productions and Champions of Champions for the next broadcast on September 24th featuring two of the top Female fighters in Muay Thai, Julie Kitchen vs. Angie Parr for the WMC World Super Lightweight Title fight and the powerful Yodsaenklai Fairtex vs. Cosmo Alexandre the 2009 Kings Cup Champion in a WMC Middleweight Title fight..
Where To Get The 411 ON Champions of Champions
Got to the Champions of Champions Elite website for more information on this exciting new Fight Series. http://www.coc-elite.com
COC Elite Schedule Broadcast Date on G4 (Check your local cable listings for exact time)
Friday September 24th: 8:00pm – 9:00pm
Friday October22nd: 8:00pm – 9:00pm
Friday November 19th: 8:00pm – 9:00pm
Friday December 17th: 8:00pm – 9:00pm
Website: http://www.coc-elite.com
A 2010 Risarc Productions Inc Production. All rights reserved.
###