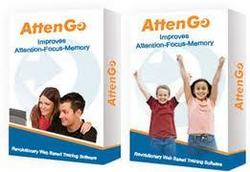 (PRWEB) September 18, 2010
This September 13-20, 2010, we celebrate ADHD Awareness week. ADD/ADHD organizations, schools, psychologists, teachers and other experts in the field come together for one cause: to help individuals with ADD/ADHD improve their learning and behavioural skills. During this special week, AttenGo will be offering their ADD/ADHD Training Software for a low price of only $264, a 40% discount from the original price of $440.
AttenGo has developed an online neuro-cognitive programs for ADHD. ADD/ADHD is a condition that affects all facets of social, emotional and educational development. Providing proper intervention to help individuals' cope with this condition is vital to facilitate a more productive and happy life. AttenGo works hand in hand with parents, clinicians and teachers in offering them an effective tool to address ADD/ADHD symptoms.
AttenGo has developed and clinically tested online training software based on proprietary technology from the Advanced Cognitive Enhancement clinic in Toronto, Canada. AttenGo's online training software aids in improving attention and facilitate concentration for ADD/ADHD patients. It improves attention, concentration and memory as well as executive functions (planning, organization & self control).
AttenGo's training program is web-based enabling accessibility for users anytime. Twenty five minutes per day of training, 3-5x a week is all that's required. A built-in assessment tool personalizes a training program for each user. Efficient tracking tools and graphs are included for the entire program duration. Real time feedback and scores from all the tests and exercises are continuously provided. Customer support is available throughout the program by a highly skilled and reliable professional team.
This offer is only available for the duration of ADHD Awareness week from September 13-20, 2010.
For more information on this offer, please visit http://www.attengo.com.
###