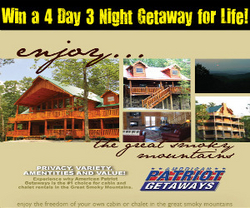 This has to be the best sweepstakes I have ever signed up for! We rent from ya'll twice a year. To get one of those trips paid for every year would be awesome! - Erricka Newbury-Jones, via Facebook
Gatlinburg, TN (PRWEB) September 20, 2010
Leading overnight cabin Rental Company, American Patriot Getaways, is happy to announce an amazing giveaway featuring their Pigeon Forge and Gatlinburg cabins that will award a lucky winner their own cabin for 4 days and 3 nights once a year for life! The sweepstakes started on August 12th and will continue until November 15th, 2010.
"We are one of the biggest and most innovative cabin rental companies in the region, so we decided to have the most innovative and fun sweepstakes," says Bob Foster, American Patriot Getaways' marketing manager. "This contest is absolutely huge. Think about it: a free vacation every year in one of the most beautiful and scenic places in the country. Who wouldn't want to enter?"
The contest has reached over 11,200 entrants so far and thousands more are expected to enter. Excited fans of American Patriot Getaways' Gatlinburg cabin rentals have been waiting anxiously for a once in a lifetime contest such as this, like traveler Erricka Newbury-Jones, who commented via Facebook, "This has to be the best sweepstakes I have ever signed up for! We rent from ya'll twice a year. To get one of those trips paid for every year would be awesome!"
The sweepstakes is free to enter and can be forwarded to family members and friends so that everyone can participate. Area attractions and activities for the winner to enjoy while relaxing at the newly awarded luxury log cabin include world-famous Dollywood, Titanic the World's Largest Museum Attraction, hiking in the Great Smoky Mountains, water parks, a plethora of live entertainment venues, as well as uniquely delicious cuisines and down home southern cooking.
About the company:
American Patriot Getaways (http://www.PatriotGetaways.com) is the name to remember when coordinating a getaway to the Smoky Mountains. With over 300 Pigeon Forge and Gatlinburg cabins, American Patriot Getaways is a leader in providing wonderful cabins in eastern Tennessee. Unmatched customer service, clean and well maintained cabins, and a diligent pursuit of quality are what make this company such a trusted name in Gatlinburg and Pigeon Forge, Tennessee.
###