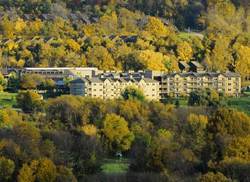 "Dr. Hickey took the time to find out what my reasons were for being overweight and was able to make a plan for me that works! I haven't been at this weight in years and I never thought I'd be able to get off my blood pressure medication - I feel great!"
Hillsborough, NJ (PRWEB) September 19, 2010
The Transformations - Crystal Springs Weight Loss/Fitness Retreat will be October 24th - 30th. This unique program has been designed for people who are overweight or obese - especially those who are at risk for diabetes, high blood pressure or vascular disease. The Crystal Springs resort is located in Vernon, NJ, in the beautiful Kittatinny Mountains. The location is convenient to New York, New Jersey and Pennsylvania (http://www.CrystalGolfResort.com/Hotels/MineralsResortSpa.aspx), Participants will be immersed in health education, counseling and fitness training to jump-start their weight loss. The program has been developed by Dr. Kathleen Hickey, medical director of Transformations Physicians Weight Management in central New Jersey, considered the most comprehensive medical weight loss center in the state.
Dr. Hickey will be doing the medical screening for each participant and will develop an initial plan for reaching healthy weight goals. There will be daily stretching, hikes, and classes for aerobic and resistance exercises. There will also be opportunities to learn activities like tennis, swimming, yoga, and golf.
Crystal Springs' renowned chefs will be present to teach techniques of healthy cooking. They will be preparing all of the meals, with ingredients from their on-site gardens and local farms.
Transformations' therapist and motivational coach, Bianca Ramos, will also be there to encourage insight and help participants develop new habits for making lasting changes. She will be presenting topics on time management, mindful eating, goal setting and more. Dr. Hickey will be giving lunchtime talks on health topics related to weight loss.
At the end of the week Dr. Hickey will meet with the participants individually again to review their progress and set their plan for continuing on to greater health. (They are able to follow up with her after the program as needed.)
On the last day attendees will have the option to indulge at the on-site Minerals' Elements Spa and celebrate their progress with a makeover.
Included in the 6 night stay in one of Minerals Hotel and Spa's deluxe guest rooms: medical consultations with Dr. Hickey, counseling sessions with Bianca Ramos, fitness assessment, body composition and metabolism analysis, all meals, snacks, classes, pedometer, water bottle, hat, tote, journal, individual nutrition and eating plans, and more. In addition, there are indoor and outdoor pools, and participants will have full use of the Jacuzzis, sauna and steam rooms.
Particpants must be overweight or obese and receive clearance for exercise from their physician. Space will be limited in order to optimize the experience for all attendees. Registration is now open to reserve space in this unique program. Call 908-281-6771 or contact via http://www.TransformationsMD.com
# # #