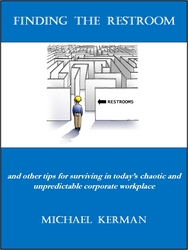 "His insights into what it takes to succeed in today's complex organizations should be studied by anyone looking to find a job... or keep one." Mark Barrenechea President and CEO SGI
Wynnewood, PA (PRWEB) September 21, 2010
Finding the Restroom , a new career management book by high-tech executive Michael Kerman, is now available to help address the challenges faced by executives suddenly thrust into transition as well as young professionals unsure how to compete in Corporate America.
"I understand, first-hand, the difficulty in managing one's career and saw the need for a no-nonsense, "roll-up-the-sleeves" book to help professionals get their careers back on-track" said Michael Kerman.
Based on more than 20 years of senior-level experience in the high-technology market and a stint of being "in transition" himself, Finding the Restroom combines personal anecdotes with more than 30 charts, graphs, scorecards and other diagnostic and analytical models that help readers:
> Learn the 3 must-have documents for your job search… besides your resume!
> Discover how to work for all kinds of managers including "The Dictator" and "The Charlatan"
> See the critical skills most MBA programs miss!
> Find out the key to successful teams… and career-advancing assignments
> Learn what to do (and not to do!) if you're suddenly "let go"
" In Finding the Restroom, Michael Kerman has applied the discipline of an outstanding executive to a task many people find daunting, not just finding a job, but executing a plan that will contribute to success in life" said Matt DiMaria, VP and General Manager at Roxio Software.
Finding the Restroom is available online via Amazon.com (http://www.amazon.com ), Barnes and Noble.com (http://www.barnesandnoble.com ) and Lulu.com (http://www.lulu.com).
###