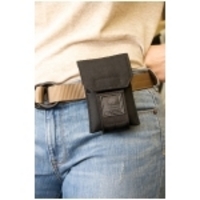 Phoenix, AZ (PRWEB) September 21, 2010
Adjusting to changing times and advancing technologies has been at the core of Wilderness Tactical Products' business model for nearly 30 years, and today, Wilderness again fills an overlooked void with the introduction of their new Wilderness Smartphone Case.
Recognizing the surging popularity of I-Phones, Droids, Blackberry's and the like, Ralph Holzhaus, President of Wilderness Tactical Products, LLC designed a case which would allow outdoors people the luxury of taking their expensive smart phones with them--even during less than desirable conditions.
The Wilderness Smartphone Case is made from rugged 1000D Cordura and is lined with a thin layer of closed-cell foam to cushion shock, protect the phone, and allow the case to snugly form fit your specific phone over time. The exterior of the case features a full flap attached by Velcro which fits snugly and securely over the phone.
Adding to the convenience factor, Wilderness has designed a clever fastening system that not only functions as a conventional wraparound belt loop for attachment to your belt (perfect pairing with an instructor belt), it also transforms into a "paddle" when folded and attached to itself for tucked in use without a belt.
Holzhaus comments, "We love designing quality products which make our customers' lives easier and more convenient; our new Smartphone Case not only provides a durable solution, it also looks great and can be worn for everyday use."
With every branded product proudly manufactured in the USA, Wilderness Tactical Products' complete line of tactical equipment can be viewed and purchased online at http://www.TheWilderness.com
About Wilderness Tactical Products:
Wilderness Tactical Products, L.L.C. was founded in 1981 to fill the needs of people who demanded durable, high-quality tactical equipment. Their products have been tested from the icy mountain peaks of South America to the blistering Sonoran desert for nearly 30 years and they have proven themselves time and again. Wilderness Tactical Products' branded products have consistently been favorites of serious outdoors people, mountain climbers, search and rescue, American Pistol Institute and Gunsite personnel, as well as armed military, intelligence, police, instruction and civilian professionals around the world. For additional information please call 1-800-775-5650 or visit http://www.TheWilderness.com
Business contact:
Joan Holzhaus
602-242-4945
Media contact:
Jason W. Jantzen
Phoenix Marketing Associates
http://www.PhoenixMarketingAssociates.com
602-282-0202
###