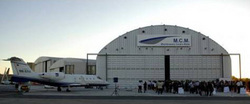 SteelMaster had been a company that exported sporadically, but since it started working with Commerce, the company has increased its sales around the globe.
Virginia Beach, VA (PRWEB) September 20, 2010 —
Secretary of Commerce Gary Locke made prominent mention of SteelMaster Buildings for expanding its export efforts as he spoke before those gathered at the Virginia Summit on Export Opportunities which was held Monday, September 13, 2010 in Richmond, VA.
According to the Virginia Economic Development Partnership, in 2009, Virginia businesses exported almost $27 billion in goods and services, and the Commonwealth ranks as the 21st largest exporting state in the country. Exports directly and indirectly support an estimated 300,000 private-sector jobs in Virginia.
During his speech, Locke focused his attention on one policy in particular that he feels carries a powerful punch– President Obama's National Export Initiative (or NEI).
The NEI, which the President announced earlier this year, sets a goal of doubling U.S. exports over the next five years to support several million new American jobs.
"It's an unprecedented effort, and it was designed with two overriding goals in mind," says Locke. "…to put Americans back to work and ensure long-term economic growth."
Fred P. Hochberg, chairman and president of the Export-Import Bank of the United States, also spoke during the event and concurred with Locke that there is a dire need for pro-business and pro-job policies like the President's NEI that help companies of all sizes succeed in today's increasingly competitive global marketplace.
During the past two years, U.S. trade specialists have worked with local businesses and helped them generate sales to foreign customers worth $515 million.
One of those businesses is SteelMaster Buildings. Located in Virginia Beach, VA, the company consults routinely with the Virginia Economic Development Partnership as well as the Richmond Export Assistance Center. "With [the center's help], SteelMaster was recently able to connect with a company in Romania and make a $450,000 shipment of building products," says Locke. "SteelMaster had been a company that exported sporadically, but since it started working with Commerce, the company has increased its sales around the globe. SteelMaster's story is instructive. Once they gain a foothold in foreign markets, American goods and services sell themselves."
According to Emma Granada, the International Business Development Manager for SteelMaster Buildings, international business is a vital part of the company's business.
"Secretary Locke's speech captured the heart of what international business is, and that is to be able to 'connect your businesses with the international consumers who want your products and services,'" says Granada. "We will continue to do that in order to provide our overseas customers with the optimal building solution and service for their needs."
Within the past few years, SteelMaster Buildings has:

Awarded a $1.5 million dollar contract for the supply of airplane hangars and carports (for vehicle and equipment storage) for the Algerian Air Force;
Acquired estimated sales worth upwards of $450 thousand (more than 10 buildings sold) to be used for equipment storage and warehouses by its distributor in Romania;
Promoted its structures, with the assistance of its Chilean distributor, for use by the Chilean Air Force (aircraft hangars), several mining companies around the country (storage facilities, camp buildings), local firefighting companies (service buildings), aeronautical companies (hangars), military branches (complete camp solutions), and recently sold a structure for the company ECO COPTER S.A. which will be used for helicopter storage. The hangar will be located in the main airport of Chile and will be inaugurated by country officials.
" We are very proud of all our successes that we've had thus far and are looking forward to what the future has store for us from all the hard work we've done," says Granada.
For more information on SteelMaster, visit http://www.SteelMasterUSA.com or call (800) 341-7007.
Corporate Summary
SteelMaster's steel and metal pre-engineered buildings are designed for a broad range of residential and commercial applications as well as custom building applications including athletic facilities, retail stores, churches, bus stops, smoke shacks, doggie dorms, and correctional facilities.
SteelMaster Buildings represents over 28 years of premium quality manufacturing, providing the highest quality steel arch buildings in the world. Throughout its years in business, SteelMaster has successfully designed buildings and structures for a variety of applications across the globe ranging from residential customers, the government, and the military, to numerous Fortune 500 companies. As the world's leading manufacturer and supplier of steel arched buildings and roofing materials, SteelMaster continues to excel at providing its overseas customers with the optimal buildings to meet their needs. The company's extensive experience abroad and understanding of the world's unique requirements due to its diverse markets and cultures has made them leaders in this area.
###