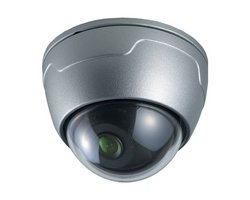 Camtron is already producing Seawolf cameras
Mountain View, CA (Vocus) September 20, 2010
Pixim Inc., a leading provider of image sensors and processors for enterprise security cameras, announced that Camtron Industrial Inc. of Seoul, Korea has introduced four new cameras integrating Seawolf, Pixim's latest chip technology. Camtron's Seawolf-powered camera series includes three true day/night domes (CTDD-6371, CTMV-6371S, VRDD-6371) and a box camera (CTDC-6372).
Through Seawolf, Camtron's new cameras offer 690 HTVL effective resolution as well as the industry's proven best wide dynamic range. In addition, Seawolf-based cameras require just 0.1 lux of illumination to produce usable, color images.
"Camtron is known for offering products based on state-of-the-art technology. With Seawolf, we can continue this trend," says KY Moon, Camtron's president. "Our customers will benefit from Seawolf's lowlight capabilities as well as its outstanding wide dynamic range."
"Camtron is already producing Seawolf cameras," says Jeff Jones, director of product marketing for Pixim. "Now integrators and end users will be able to experience, first hand, Seawolf's capacity to handle any lighting condition right out of the box."
About Pixim
Pixim Inc. has developed unique imaging technology that revolutionizes the way video cameras capture and process images. Unlike traditional image capture technologies, where each pixel cannot adjust to highlights and lowlights in the same scene, Pixim's patented Digital Pixel System® technology empowers hundreds of thousands of pixels to act like individual cameras constantly self-adjusting. This all-digital system enables Pixim-powered cameras to efficiently capture the whole picture, regardless of lighting condition or application - thus securing the highest resolution, natural color and clarity, while automatically eliminating image-compromising visual noise (e.g., glare, reflections). The result is more than superb image quality; it is accurate, actionable information that gives users the strength of certainty.
Pixim chipsets are incorporated into over a million security cameras installed in more than 100 countries worldwide. Visit http://www.pixim.com/cameras for a complete listing of Pixim-based cameras. For general information, visit http://www.pixim.com or call Pixim's headquarters in Mountain View, Calif., at (650) 605-1118.
About Camtron
As a manufacturer, Camtron has supplied diverse CCTV cameras and security applications for more than 10 years. The company's state-of-art technology products with reliable quality have been chosen by many customers all over the world. As a technical leader, Camtron has developed a broad range of cameras with high resolution, true day/night, wide dynamic range, digital noise reduction, and ultra low light technologies. Camtron has developed IP network security solutions and supports a full range of IP products.
###