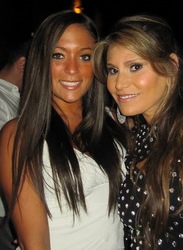 I was thrilled to be involved in such a dynamic event
New York, NY (Vocus) September 20, 2010
Loren Ridinger, Senior Vice President of Market America (http://www.marketamerica.com) made a guest appearance at the Shop Addicts- Fashion Binge shopping event to celebrate Fashion Night Out 2010! at Touch Lounge on Friday, September 10, 2010.
Women from everywhere shopped for a cause at the Fashion Binge shopping event, with all proceeds going to a non-profit organization that helps empower and sponsor young girls & women Mozambique Africa to pursue an education.
Internet mogul Loren Ridinger, Senior Vice President of MarketAmerica.com, creator of Motives® Cosmetics (http://www.motivescosmetics.com), Cellular Laboratories™ skin care line and co-founder of Loren Jewels® was on hand to discuss the new launch of her women's lifestyle site Lorensworld.com (http://www.lorensworld.com) and the new arrivals to Motives® Cosmetics and Cellular Laboratories™ lines.
"I was thrilled to be involved in such a dynamic event," said Loren Ridinger. "This gave women the opportunity to come out and experience fashion at its best, experience the new additions to the Motives® and Cellular Laboratories™ lines and to benefit a great cause," said Ridinger.
About Loren Ridinger
Senior Vice President of internet retailing giant marketamerica.com, Creator of the award winning cosmetic line, Motives® by Loren Ridinger and the uber-luxurious skincare line, Cellular Laboratories™, and co-founder of the exquisite jewelry collection, Loren Jewels®.
Loren is an internet mogul who has been changing the face of the beauty and shopping industries for many years. Her impeccable style has established her as one of today's leading trendsetters. She has been named to Vogue's Top 100 as one of their most influential women, selected by Haute Living as one of New York's and Miami's most influential residents, awarded the 2009 Women of Substance and Style award, recognized by Fashion Group International for her contribution to the fashion and beauty industry, in addition to being named Woman Extraordinaire and Top 50 Entrepreneur by Business Leader magazine. Loren has transcribed her style and fashion expertise to her personal blogs, LorensWorld.com and MyFashionCents.com, which also won the DivineCaroline.com 2009.
Loren's passion to help others leads her involvement with many charitable causes including Rally for Kids with Cancer, which she co-Chairs with Eva Longoria Parker, American Heart Association, from whom she received the 2010 Big Heart Humanitarian award, the Make-a-Wish Foundation, the Jennifer Lopez Foundation, Cystic Fibrosis Foundation, the Rush Philanthropic Arts Foundation and many others.
###