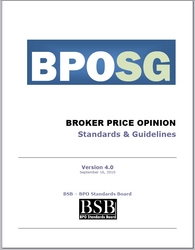 These updated standards will continue to help stabilize the market through the analysis Broker/Agents provide all clients
Scottsdale, AZ (PRWEB) September 20, 2010
The National Association of Broker Price Opinion Professionals (NABPOP), together with the BPO Standards Board (BSB), is pleased to announce a revised version of BPO Standards and Guidelines (BPOSG). The BPOSG provide a comprehensive framework for the preparation of Broker Price Opinions (BPOs) throughout the BPO industry, including suggested practices for the selection and utilization of comparable properties, pricing considerations, the use of photographs and ethical and competency considerations. Since the initial release, BPOSG has been well received in the industry and the latest version ensures the efficiency, relevance, and viability of the standards and guidelines.
To view and/or download BPOSG, please visit BPOSG website.
The BPO Standards Board (BSB) maintains and promulgates BPOSG. The BSB is facilitated by NABPOP and is comprised of BPO subject matter experts with representatives from leading BPO companies as well as experienced BPO practitioners. According to Michael Ramer, chairman of the BSB, "It was clear, in working with the subject matter experts from the top BPO and REO companies which comprise the BSB, this group represents the best and the brightest in the BPO industry. BPOSG is a product of the participating organizations' dedication and commitment to the overall quality of the BPO industry."
The BPOSG were derived from a diversity of feedback and suggestions from across the BPO industry, including BPO companies, REO companies, mortgage servicers, and BPO practitioners (sales agents and brokers). The BSB analyzed and compiled feedback and suggestions received from the industry. The process was designed to ensure that the BPOSG is quality-oriented, timely, relevant, and effective.
Bill Morrison, a BSB board member, senior advisor to NABPOP, and a licensed Broker in Northern California noted "BPOs that provide a clear and reliable picture of the property and market is critical for everyone from the owner to the asset manager in this challenging real estate market. These updated standards will continue to help stabilize the market through the analysis Broker/Agents provide all clients."
NABPOP is a non-profit professional trade association comprised specifically of BPO practitioners. NABPOP tests for and grants a certification based on BPO practitioners' pricing knowledge and skills as well as their understanding and application of the BPOSG. Organizations that hire BPO practitioners can rest assured that NABPOP BPO Certified Practitioners have the requisite knowledge and skills required to perform accurate and timely BPOs. Furthermore, members of NABPOP benefit from the professional advancement of robust BPO education and training, a stringent BPO certification process, BPO job resources, Code of Ethics, and networking that is offered through the association. NABPOP is dedicated to advancing the professionalism and competency of BPO practitioners therefore elevating the BPO industry and, in part, the real estate valuation industry.
###