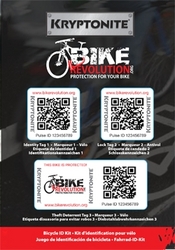 "This partnership enables us to increase our bicycle anti-theft outreach programs to cyclists and those cycling-specific organisations that promote cycling..." says Briand Beausoleil, Director of Bike Revolution
Canton, MA (PRWEB) September 19, 2010
Kryptonite, a brand within the Residential Solutions Sector of Ingersoll Rand Company Limited, and Bike Revolution, a UK based global bicycle registration provider, are pleased to announce a new partnership focused on creating innovative security products and services that empower the global cycling community.
The Kryptonite and Bike Revolution partnership provides cyclists with a free global bike registration service designed to reduce bike theft and aid recovery. Using mobile technology and social networking, Bike Revolution offers cyclists new ways to protect and recover their bikes, if stolen. Cyclists register their bike at no cost on the Bike Revolution website at http://www.bikerevolution.org/register.html. For additional protection, a rider can purchase a Kryptonite Bike Revolution Bicycle ID Kit which includes anti-theft Pulse ID tags.
The Kryptonite Bike Revolution Pulse ID tag is a unique, tamper-resistant, weatherproof ID tag that includes a QR code used to identify a bike's status. Any person with a smart phone and a free 2D barcode application can scan a tagged bicycle. The scanned tag links directly to that bike in the secure Bike Revolution database, and provides the status of the bike. If a bike is listed as stolen, Bike Revolution publishes this information on the site and uses social networking tools to spread the word. Localized Stolen Bike Alerts are sent to Bike Revolution's followers on Facebook and Twitter, the bike owner, local authorities, bike shops and cycling clubs.
"Kryptonite is thrilled about this opportunity with Bike Revolution to focus on innovative security and increase our level of service," said Karen Rizzo, General Manager, Kryptonite. "In addition to providing our customers with high quality u-locks, chains, cables, and modular security systems to secure their rides, the Kryptonite Bike Revolution Bicycle ID Kit adds another layer of security. It empowers our customers with the ability to leverage mobile technology and social networking to help reduce bike theft."
"Partnering with the Kryptonite team makes for exciting prospects. Their quality locks, excellent customer service and loyal customer base is a testament to their long-term commitment to cyclists," said Briand Beausoleil, Director for Bike Revolution. "This partnership enables us to increase our bicycle anti-theft outreach programs to cyclists and those cycling-specific organisations that promote cycling. Working with Kryptonite, we fully expect to be able to drive down bike theft through increased registrations and recovery."
Free bike registration is available today at http://www.bikerevolution.org/register.html. The Kryptonite Bike Revolution Bicycle ID Kits will be available at select IBDs later this year.
About Kryptonite
Kryptonite, innovator of the bicycle U-lock, has offices in Canton, Massachusetts, USA. The company is a premier producer of high-quality cables, chains, U-locks and flexible security systems for the bicycle, power- sport, snow-sport, locksmith and hardware markets. Kryptonite locks are sold in more than 50 countries. Kryptonite is a business unit of diversified, industrial firm Ingersoll-Rand Company, a leading innovation and solutions provider for the major global markets of security and safety, climate control, industrial solutions and infrastructure. Further information on IR can be found on the company's website at http://www.irco.com.
About Bike Revolution
Bike Revolution, a non-profit company, produces mobile technology solutions for security applications in cycling and competitive sports sectors. The company offers a free, global bike registration, search and recovery service, using social media, mobile apps and emerging technologies to create unique solutions to counter theft. The founders, technologists and marketers, are avid cyclists who believe in harnessing the power of technology and local communities to reduce bicycle theft. The company has programs that enable bike manufacturers, cycling organisations and law enforcement to protect their customers, members and constituents in the cycling community. Further information can be found at http://www.bikerevolution.org.
###