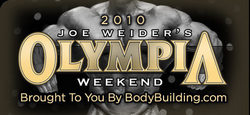 "We love that our partnership with Weider Publications allows us to share this amazing event for free to bodybuilding and fitness fans around the world," CEO Ryan DeLuca
Meridian, ID (PRWEB) September 18, 2010
Bodybuilding.com, the Internet's most-visited bodybuilding and fitness site and largest online retailer of nutritional supplements, is proud to announce an exclusive agreement with Weider Publications, bringing the 2010 Olympia Weekend to bodybuilding fans around the world. For the 4th consecutive year, Bodybuilding.com will provide a live global webcast of the year's biggest event, completely free to the public.
Join Bodybuilding.com Friday September 24th and Saturday September 25th as Jay Cutler, Phil Heath, Branch Warren, Kai Greene, Dexter Jackson and 22 of the world's best battle for the right to be called Mr. Olympia. In addition to the prestigious Mr. Olympia contest, Bodybuilding.com's live coverage from the Las Vegas Orleans Arena will also include webcasts of the Ms. Fitness Olympia, Ms. Figure Olympia, Ms. Olympia and the inaugural Ms. Bikini Olympia.
"When three-time Mr. Olympia Winner, Jay Cutler, reclaimed the title last year from Dexter Jackson it set the crowd on fire! This year's battle is definitely going to be a fight to the finish," says Bodybuilding.com CEO, Ryan DeLuca. "We love that our partnership with Weider Publications allows us to share this amazing event for free to bodybuilding and fitness fans around the world."
Bodybuilding.com is offering the best seat in the house with exclusive access to the backstage "Pump-Up" room and interviews with the contenders. Veteran commentator, Dan Solomon, returns to lead a team of top announcers, including: Radio Host Larry Pepe, Industry Expert Sommer Robertson and IFBB Fitness Pro Carla Sanchez.
Make sure to mark your calendars for a live presentation of the 45th annual Olympia Weekend, brought to you by Optimum Nutrition and Bodybuilding.com.
Bookmark the Olympia Webcast now at http://webcast.bodybuilding.com/fitshow/2010olympia/
For more information on the 2010 Olympia coverage, please visit http://www.bodybuilding.com/fun/2010-olympia-main.htm
Bodybuilding.com offers more than 12,000 health and fitness supplements & accessories to help people achieve their health, fitness and appearance goals, as well as over 25,000 pages of free bodybuilding & fitness information (written by 600+ writers), video & audio segments, and new content added daily.
###