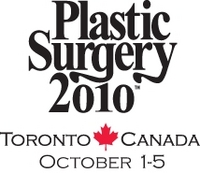 (Vocus) September 20, 2010
What: The American Society of Plastic Surgeons (ASPS) is bringing its popular Hot Topics in Plastic Surgery panel directly to journalists during a Hot Topics Overview/Webinar for the Media. During this dynamic hour, journalists can get answers to questions on emerging procedures, trends, and new technologies while engaging in conversation with the experts. Journalists can participate onsite in Toronto or via webinar. The webinar format is entirely Q&A.
When: Monday, October 4, 11:00 a.m. – 12:00 p.m., Eastern Time
During Plastic Surgery 2010, the ASPS annual scientific meeting.
Where: Metro Toronto Convention Centre
222 Bremner Blvd. (South Building)
Toronto, Ontario M5V 3L9
Room: 705
How: To participate, please RSVP to ASPS Public Relations at (847) 228-9900; media(at)plasticsurgery(dot)org or in Toronto, Oct. 2-5, at (416) 585-3870. Attendees will receive a confirmation email with access instructions.
Why: Hot Topics in Plastic Surgery is one of the most popular panels at the ASPS annual meeting. The webinar will bring panelists right to the journalists who were unable to attend the annual meeting or unable to ask the panelists questions during the panel session scheduled for Fri., Oct. 1.
As demand for more inventive, less invasive procedures for the face and body continues, are emerging treatments cutting edge or just "buyer beware" marketing hype? What promise do innovations being studied or awaiting FDA approval hold? This is your opportunity to get the answers!
About ASPS: The American Society of Plastic Surgeons is the largest organization of board-certified plastic surgeons in the world. With approximately 7,000 members, the Society is recognized as a leading authority and information source on cosmetic and reconstructive plastic surgery. ASPS is comprised of 94 percent of all board-certified plastic surgeons in the United States. Founded in 1931, the Society represents physicians certified by The American Board of Plastic Surgery or The Royal College of Physicians and Surgeons of Canada.
###