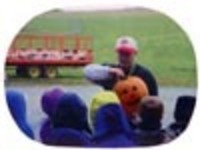 The fruit trees, the wagons, the farm; it's all so big to the students. It's magical
New Park, PA (Vocus) September 20, 2010
Maple Lawn Farms has no problem opening its doors to the public. The farm has been growing local food for the community for over 100 years. Fall brings the youngest students from local preschools, day cares and elementary schools to the farm for a hands-on tour with Farmer Hugh.
"The fruit trees, the wagons, the farm; it's all so big to the students. It's magical," says Hugh McPherson, 5th generation farmer at Maple Lawn Farms. "You can see there minds expand as they see and pick apples from trees laden with thousands more."
Educational groups may choose from a number of specialized programs at Maple Lawn Farms and Maize Quest, the farm's corn maze enterprise. The preschool fruit and pumpkin tours focus on teaching kids to identify farm products and picking apples.
Other student age groups choose from different programs tailored by grade level to meet Maryland and Pennsylvania state academic standards. Elementary through middle school groups focus on communication, writing, and listening skills as they challenge the Maize Quest corn maze, older students may choose a giant scavenger hunt led by global positioning (GPS) units called geocaching. Each tour is customized to suit the teacher's requirements.
"The farm tours are great for younger guests. Mazes are a great tool for grade 4-12 teachers," says Michelle Posey, Maize Quest and Maple Lawn Farms's Group Tour Director. "The maze puzzle is so big, students have to learn to work together to escape."
Situated on the Maryland-Pennsylvania border in York County, customers visit the farm from both states, with a high concentration of Baltimore guests. "Going to the country" from the Baltimore metro area means going North into Pennsylvania. The farm is an easy 45 minute drive from the northern Baltimore suburban schools, preschools and day cares.
To visit or schedule a group tour or event are the Maize Quest Fun Park or Maple Lawn Farms call 1-866-935-6738 or visit http://www.mazefunpark.com, click in the Facebook Fan Box and become a "Fan" for updates and special events. Fruit picking and farm market information is available at http://www.maplelawnfarms.com.
###