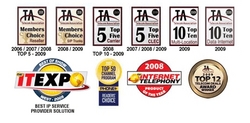 By combining managed IP voice services with an MPLS network, AireSpring delivers the next generation of communications technology today.
Washington, DC (PRWEB) September 21, 2010
Channel Partners Expo (PRWEB) - Award winning SIP Trunking provider, AireSpring, today announced the launch of its new Managed Voice over MPLS product (VoMPLS). Available nationwide across three tier one networks, AireSpring MPLS-VPN targets multi-location businesses requiring secure, flexible, and intelligent voice and data connections. This solution offers maximum voice and data bandwidth and security at the most economical rates.
By combining managed IP voice services with an MPLS network, AireSpring delivers the next generation of communications technology today. In addition, AireSpring can hand off voice capacity to the customer via their preferred option including digital T1/PRI, analog POTS lines or SIP trunks. Airespring VoMPLS can be customized with a full suite of flexible calling features and configuration options. From the smallest SMB's to the largest enterprises, AireSpring Voice Over MPLS is an affordable and attractive solution.
When introducing AireSpring Voice Over MPLS to the Channel Partners Conference & Expo in Washington, DC, AireSpring COO, Daniel Lonstein noted, "Our customers and agents are increasingly looking to update their voice and data networks with the latest secure, managed voice and data technology. One of the great advantages of Airespring voice services is the adaptability of the product to the customer's current and future phone system. Because our voice network is all IP from the customer premise, we can easily convert a customer's connection from T1/PRI or analog to SIP trunking without requiring a new installation. We like to call our voice services "future-proof". And with the unparalleled footprint of three separate underlying Tier 1 MPLS networks, we can reach nearly every potential MPLS location in America. This is huge news for us and for our customers and agents."
AireSpring has gained recognition as one of the most dynamic providers in the cutting edge IP space and has been awarded the coveted Telecom Association "Members Choice" award for SIP Trunking, Technology Marketing Corporation (TMC)'s best in show for IP communication, and numerous awards and accolades for a complete suite of Voice, Data, MPLS and Conferencing solutions.
For more information on AireSpring LD and other products, visit http://www.AireSpring.com
About AireSpring
Headquartered in Los Angeles, award winning AireSpring is one of the fastest growing telecommunications carriers in the USA, with over 4 billion call records processed every year. AireSpring is a privately held, diversified, debt-free, and full service communications company which offers a broad range of innovative telecommunications services at competitive rates.
AireSpring offers next-generation voice, data, integrated, SIP/VoIP, MPLS and conferencing products designed to deliver power and flexibility at cost-effective rates. AireSpring has been named, "Product of the Year," "Best Telecom Deal," "Members Choice top reseller," "Best In Show," and "Top Channel Program." To find product information, rates, or become an agent or reseller, please visit http://www.AireSpring.com or contact Todd Regan at (818) 786-8990, ext 374.
###