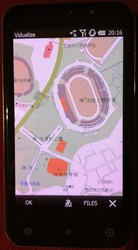 SVG Map is a true vector based web map service platform delivered direct to the phone so map display is perfectly crisp at any zoom level
(PRWEB) September 19, 2010
Location, location, location – the mantra of real estate is now the mantra of portable devices. Location based services are driving a revolution in how people interact with their environment. The key driver of this revolution is quality location based data in your pocket, available everywhere at any time. Hot on the heels of Microsoft releasing Internet Explorer 9 beta with SVG support, Abbra and Igel have teamed to deliver SVG Map on a Windows Mobile device. The World's First view of this is being shown in Yokohama Japan at G-spatial EXPO 2010.
"SVG Map is a true vector based web map service platform delivered direct to the phone so map display is perfectly crisp at any zoom level" said Alex Danilo, CTO of Abbra. "HTML5 browsers are all supporting SVG natively and SVG Map takes this one level further with features that optimize the mobile map viewing experience by providing infinitely scalable map display right on the users device," Danilo said.
SVG Map selectively downloads map data to the user's device based on zoom factor and so, optimizes the data delivery to the device. Being true vector data, the display is perfectly crisp at any magnification, and on any screen size.
"We are excited to bring this cutting edge SVG technology to mobile devices at G-spatial EXPO" said Takanari Hayama, CEO of Igel. "Igel has a distinguished pedigree in bringing high volume embedded and mobile technology to market and we are excited to join forces to deliver our SVG Map solution" said Danilo.
The world embracing SVG Map viewer is being exhibited by KDDI on Windows Mobile at G-spatial EXPO 2010 powered by Abbra Vidualize. KDDI has been working on standardizing SVG Map technology since 2001. With Abbra's state-of-the-art SVG graphics technology, SVG Map finally becomes a real world solution on mobile devices.
Abbra builds world leading SVG graphics technology to power next generation handsets in partnership with Igel, renowned leaders in embedded technologies.
###