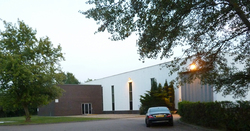 We've lots of ideas for expanding the business and with space no longer a limiting factor we hope to conjure up some new opportunities
(PRWEB) September 21, 2010
Since 2002, eFRAME has been manufacturing and selling picture frames and photo frames to a diverse range of customers. After a sustained period of double digit growth, the company found itself needing to look for a new factory with more space. Within days, a former Harry Potter book distribution warehouse came up for sale.
It may not have been Hogwarts, but located on its own 2.5 acre site the property was the perfect size and location. So the deal was done and, over the next few months, the company applied some magic of its own and completely renovated the 35 year old building to produce a modern, 33,000 sq. ft. picture framing factory complete with the latest digital equipment, specialised lighting, and new offices. Rumours that the company was installing a Chamber of Secrets have proved unfounded.
Andrew Lowther, eFRAME's own Professor of Framing says "It's an exciting time for us - the move went really smoothly thanks to our dedicated team and we've settled in well. We've lots of ideas for expanding the business and with space no longer a limiting factor we'll be hoping to conjure up some new opportunities."
The eFRAME web site has been a hit with over 100,000 customers, and the company believes its innovative frame selection and design tools offer an interactive experience like no other. Users simply upload a photo and choose a frame colour, shape and size. Then, using a secret formula of smoke, mirrors and magic charms, the photo is shown fully framed in the chosen style. Even Harry would be impressed with this.
The new production unit will facilitate the continued fast-paced growth seen in recent years, and enable recruitment of more picture framers, support staff and, perhaps, a few "boy wizards" along the way.
# # #