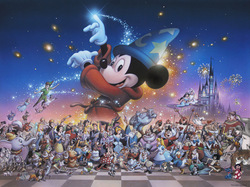 Creative Interpretations of Mickey Mouse, Captain Hook and Scar from the Lion King. Are Perfect for Holiday Gift-Giving
Ogden, UT (PRWEB) September 20, 2010
Mickey Mouse, Donald Duck, Jessica Rabbit, Alice in Wonderland, Disney Castles, and other favorite characters from The Walt Disney Company, are arriving to Sanders Art Studios on September 18, in more than three stunning, new Disney Underground Art pieces.
"Mickey's Party" (Disneyland) (Walt Disney World)
by Tsuneo Sanda
Hook, Line and Stinker (Captain Hook)
by Schim Schimmel
Insufferable
by Schim Schimmel (Scar) Lion King
From the artist:
"In developing a new style of artwork I call, ANIMAL POP, it occurred to me that many of Disney's iconic characters, especially Disney's notorious villains, would lend themselves perfectly to this new style. And indeed, my first two villains, Scar and Hook, seem to be tailor-made for the ANIMAL POP look.
Animal Pop is characterized by sharp, simplified geometric shapes and bright colors. This style seems to bring out remarkably well the edginess, the attitude of Disney's most infamous villains.
I am excited to be producing this new line of Disney underground art. Keep your eyes open for your favorite Disney Villain in the near future."
To order individual pieces and for more images, visit http://www.SandersArtStudio.com.
Sanders Art Studio, a family run business located in Ogden, Utah, is the official licensee of DreamWorks Animation SKG, and the global publisher of DreamWorks Animation Fine Art. Sanders Art Studio specializes in providing collectors rare and exclusive pieces of animation art.
(C)Disney
###