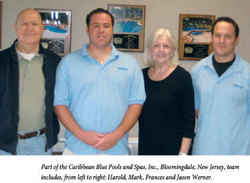 We control every phase of the job to guarantee that our customers are going to be satisfied
Bloomingdale, NJ (PRWEB) September 20, 2010
An award winning pool environment designed by Caribbean Blue Pools & Spas has been selected for the cover photo and feature story in the current issue of "The Edge", The Northeast Spa & Pool Association's (NESPA) publication. The Edge is NESPA's quarterly magazine dedicated to pool and spa professionals working in the Northeast.
A six-time NESPA award winner for design and merit, Caribbean Blue Pools & Spas, led by Mark Werner has created a reputation for excellence and service among industry peers as well as clients. The featured pool, located in Kinnelon, NJ, recently won the NESPA Gold Award for design, further establishing Caribbean Blue Pools & Spas as a highly regarded industry leader and builder of custom in-ground pools in NJ and the tri-state area.
While the location for the pool provided stunning views of Lake Kinnelon, the environment presented a series of problems that the team at Caribbean Blue Pools & Spas had to overcome. Werner and his crew relied on years of experience designing and building pools to build a backyard retreat that preserved the natural beauty of its setting.
Every step of the seven month long Kinnelon location build was executed by the workmen of Caribbean Blue Pools & Spas, not sub-contracted out. Caribbean Blue Pools & Spas' clients say this aspect of the business sets them apart from their competition.
"In my situation, I learned that other companies subcontract out the work, which means you're dealing with several people throughout the project," said Dave Boniface, a happy customer, who had his pool built by Caribbean Blue in 2008. "With Caribbean Blue, you're dealing with the owners of the company from start to finish. If you're thinking about investing in a pool, Caribbean Blue is the best choice you can make; I wouldn't recommend anyone else but them."
Werner says supervising all the work and adding the personal touch offers a measure of quality control he will always provide.
"We focus on the quality of work, handling everything from designing to permit applications to landscaping," said Mark Werner, Owner of Caribbean Blue Pools and Spas. "We control every phase of the job to guarantee that our customers are going to be satisfied."
Caribbean Blue Pools & Spas creates award winning pools from concept and design to the day of the first swim. The company's expertise and resources ensure that every pool installation is finished smoothly, to the customer's exact specifications and adds years of enjoyment and value to the home.
About Caribbean Blue Pools & Spas
Caribbean Blue Pools & Spas is headquartered in Bloomingdale, NJ with satellite offices in Fair Haven, NJ. The company is fully licensed and insured to build in New York and New Jersey. Members of the Association of Pool and Spa Professionals and the Northeast Spa and Pool Association and proudly building with superior materials and Jandy equipment, Caribbean Blue Pools & Spas is an industry leader for quality and innovation.
Caribbean Blue Pools & Spas, Inc.
142 Main St. Bloomingdale, NJ 07403
Tel: 973-283-7978 Fax: 973-492-0394
info(at)caribbeanpoolsnj(dot)com
http://www.caribbeanpoolsspas.com
###