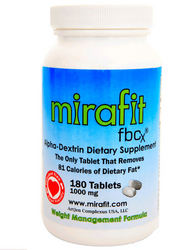 The Fat Fighter
Detroit, MI (PRWEB) September 21, 2010
Dubbed the "Fat Fighter" by the Detroit Fox Network affiliate and said to be showing "huge potential" by Canadian print media, ArtJen Complexus Holdings Corp. is pleased to announce that as part of their continuing effort to make our Fat Fighter, Mirafit fbcx, more readily available they have updated and improved their website http://www.mirafit.com to include video descriptions and animations of how Mirafit fbcx works and testimonials of real people discussing what Mirafit has done for them. From its conception the Mirafit fbcx site was intended to be educational, now visitors can review both the latest scientific findings and press coverage.
Dr. Joseph Artiss, VP ArtJen, says that, "It would be nice if people would come to our website to purchase Mirafit, but it is much more important that they leave our site knowing a little more about obesity, weight loss and how Mirafit fbcx can help them."
Mirafit fbcx, a very promising weapon in the war against obesity is available on the website as well as from select retailers in Canada and the USA. The Mirafit website also features a convenient Store Locator function to assist the consumer in finding their nearest retailer.
How it Works
Unlike the new generation of pharmaceuticals that are designed to alter brain function, Mirafit fbcx is a naturally occurring, soluble fiber that forms a very stable complex with dietary fat in the stomach. As Mirafit is not absorbed into the blood stream it has no effect on brain chemistry. Fat that is bound into a complex with Mirafit fbcx is not available for absorption into the blood stream. As the fat remains bound while passing through the large bowel there are no unwanted intestinal side effects.
"Mirafit fbcx binds and eliminates nine times its own weight in dietary fat. One gram (one tablet) of Mirafit binds 9 grams or 81 calories of fat, thus preventing absorption of about 50-60% of one's dietary fat intake when taken as directed." said Dr. Jen.
Studies
Clinical studies conducted with either obese type 2 diabetics or overweight, but not obese non-diabetic volunteers have produced very exciting results. These investigations confirm the beneficial effects of Mirafit fbcx on weight loss and blood lipid levels as they have been implicated in the development of numerous chronic disease states, including type 2 diabetes, cardiovascular disease and hypertension.
New clinical data has shown that significantly more weight was lost during the active phase as compared to the control phase of the study in the absence of any change to diet or exercise programs. Blood total cholesterol, LDL (bad) cholesterol, and the proatherogenic Apolipoprotein B levels were significantly reduced in the active phase while HDL (good) cholesterol levels remained unchanged. Participants with high triglyceride levels reduced their blood cholesterol levels more than twice as much relative to participants with normal triglyceride levels. In addition, the higher the initial cholesterol levels were, the greater the cholesterol reduction in the active phase. Blood insulin levels were reduced in the active phase as compared to those in the control phase, which suggests a reduced risk of developing type 2 diabetes. Unlike any other studied weight loss product, the participants were not put on a low fat or low calorie diet. These data were consistent with an earlier study conducted on obese patients with type 2 diabetes.
"These results indicate that Mirafit fbcx not only exerts its beneficial health effects in obese individuals with type 2 diabetes, but also is effective in improving the blood lipid profile of apparently healthy non-obese individuals," said Dr. Artiss. "These findings build on previous animal and clinical studies that have demonstrated very positive effects on body weight and blood lipid levels."
Mirafit fbcx is a soluble dietary fiber that is not absorbed into the blood. The active ingredient in Mirafit fbcx has been designated by the FDA as Generally Recognized As Safe (GRAS). The World Health Organization has given it an allowable daily intake of "not specified," suggesting that there is no unsafe level.
About ArtJen Complexus USA, LLC
Mirafit fbcx was developed by Dr. Joseph Artiss, associate professor of Pathology in Wayne State University's (WSU) School of Medicine (Detroit) and Dr. K-L Catherine Jen, chair of Nutrition and Food Science in WSU's College of Liberal Arts and Sciences. Artiss and Jen formed ArtJen to commercialize the Mirafit fbcx technology. They acquired the rights to the technology from WSU to bring the product to the worldwide market. To learn more about Mirafit fbcx and its benefits, visit Mirafit fbcx®.
For further information visit http://www.mirafit.com or call toll free 1-877-427-8536.
###