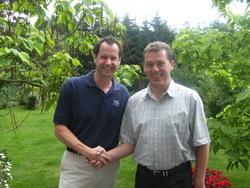 "The training inspired me to change my way of thinking on human errors" - Stefan Bekers, Kaneka
Swanzey, NH (PRWEB) September 21, 2010
The human error reduction approach known as "practicing perfection" is now directly available on the European continent through Practicing Perfection Institute- Europe, Inc.
Tim Autrey, CEO of the Practicing Perfection Institute, Inc. (PPI), has formally announced the establishment of its European branch in affiliation with Dierik Rotsaert of Action Coaching International.
"We are very pleased to bring Practicing Perfection® to Europe," Autrey said. "This approach has had tremendous success in the US. Over the past five years we have worked with major organizations and over 10,000 workers, helping them achieve a much stronger safety culture. Now this approach will be directly available to European operations."
Since 2005, PPI has helped organizations achieve culture change in a manner that produces sustainable human error reduction. One example is a large electrical transmission organization in the northeastern US, which achieved a 72% reduction in human error over a 14-month period. The error rates within that organization have continued to lower for the past two years.
"The only path to sustainability," Autrey explained, "is by changing the safety culture of the organization. The Practicing Perfection® approach does just that- it targets worker behaviors from the inside to positively influence their attitudes, and therefore their behaviors. The cumulative changes in worker behaviors (at all levels) changes organizational culture. Ultimately, the culture of an organization determines its results."
In June of 2010, PPI conducted two pilot Leadership Training sessions in Antwerp, Belgium. Twenty-seven leaders attended, representing some of the largest companies in Europe. The results were outstanding. Some representative feedback included:
"The training inspired me to change my way of thinking on human errors," offered Stefan Bekers of Kaneka.
"We are always focused on IQ and technical know-how," indicated Linda Janssens (Philips). "It is refreshing to open eyes and see EQ with the HU factor as a "tool" to improve the organization, and more specifically, the life of each member."
"During training great examples and metaphors were used," cited Joris Blommaert of CSM. "We will certainly use this approach."
Reducing human error is fundamental to accident prevention. PPI recently created a short video entitled, "Man Made Disasters," which graphically demonstrates how it takes "teamwork" to create an event; how it is most often a series of 'little things' that align over time, setting the stage for a single initiating event to cause catastrophe.
Tim Autrey will be returning to Europe to conduct the first Human Performance (HU) Academy in Antwerp, Belgium on 15-16 November. This is a two-day session, during which Mr. Autrey will be teaching the Practicing Perfection® approach to human error reduction. This course is designed for organizational leaders and performance improvement specialists.
During the week of 22 November, Mr. Autrey will be conducting the first-ever European Certification Program in Antwerp, Belgium. This is a train-the-trainer session, during which participants will learn exactly HOW to implement the Practicing Perfection® approach to human error reduction, and will be given all of the tools with which to do so.
European Contact:
Dierik Rotsaert
http://www.practicingperfectioneurope.com
dierik(dot)rotsaert(at)practicingperfectioneurope(dot)com
TEL: 00/32/15/41.25.63
GSM: 00/32/474/33.73.47
US Contact
Lauren Paré
http://www.practicingperfectioninstitute.com
lauren(dot)pare(at)practicingperfectioninstitute(dot)com
TEL: +1 603-283-6078
TEL/FAX: 877-832-9492
###