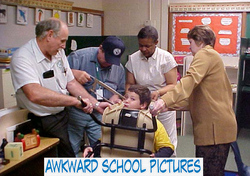 We were observing school kids buying ice cream, co-founder Estevez said. We couldn't help but remember how awkward some of our school years were growing-up as kids in San Diego
San Diego, CA (PRWEB) September 28, 2010
Hollywood loves to make movies about the biggest nerd in school being transformed into the belle of the ball. In reality this rarely happens. Luckily newly launched AwkwardSchoolPictures.com proves that no matter what one looks like now, most people have at least one school photo they wished they never had to see again.
Brian Michaels and Albert Estevez, long time buddies came up with the idea for AwkwardSchoolPictures.com while enjoying frozen yogurt at a local ice cream shop. 
"We were observing school kids buying ice cream," co-founder Estevez said. "We couldn't help but remember how awkward some of our school years were growing-up as kids in San Diego."
As the tagline suggests on the website, "Awkwardness Now in Session," the site will take online user submissions of pictures and videos, and the stories behind them then publish the content on the website. From yearbook pictures, sports pictures, school dances snap shots, who-are-they-now celebrity photos, to failed class exams; the website offers a broad array of awkward school moments from every aspect of school. AwkwardSchoolPictures.com carries photos from the traumatizing first day of preschool up through the last days of college.
AwkwardSchoolPictures.com is encouraging users to submit their original pictures today. The nature of the website is to provide clean humor without being sarcastic or negative toward anyone; the website is moderated and will not post demeaning comments from random users.
"Whether it's the picture of you with the shoulder pads straight out of Dynasty or the famous college prank that your friends pulled on you," co-founder Brian Michaels said. "It's time to pull those pictures out from under your bed and that shoebox their hidden in."
"Four adults, a hack saw, and a stranded student…" the caption from one picture pretty much says it all. With his head stuck in the opening on the back of his chair, one elementary student will never forget the day he accepted the dare to stick his head where it didn't belong. Thanks to AwkwardSchoolPictures.com, he won't be the only one laughing.
About AwkwardsSchoolPictures.com
Launched in 2010 by friends Brian Michaels and Albert Estevez, the website provides users a chance to reclaim the most embarrassing times of their lives, but this time they're in on the joke. Become a fan of the site on Facebook or follow it on Twitter.
For more information and for press interviews, please contact:
Albert Estevez
Email: AwkwardSchoolPictures(at)gmail(dot)com
Phone: 619-222-5945
###