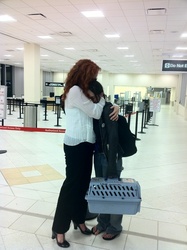 To our knowledge, law enforcement has not asked for info on the alleged captor or even followed up (as we offered) with proof of the licensed care she was destined to receive
Myrtle Beach, SC (PRWEB) September 21, 2010
On Sept. 14, 2:30 pm EDT, Dottie Laster, host of the internet radio show TRAFFICKED on a women's social network, received a private chat from a distressed U.S. teen who had allegedly been held more than two years by a captor who forced her to have sex with him, dance in a strip club and perform in porn films. Reportedly, she has been trafficked for sex during most of her life. The horrors told by this young woman of her life would shock anyone. Laster, in Texas, and her team comprised of P.I. Vicki Siedow in California (founder of FLIP--Female Legal & Investigative Professionals), P.I. Jennifer Kieseling in New Jersey, and Kay Van Hoesen in South Carolina, founder of the women's network called HereWomenTalk, quickly verified important details and sprang into action. Within 24 hours the teen, now called Lisbeth, was rescued from her captors by these women and placed in a safe and secure facility where she is receiving necessary treatment. "These situations exist all over the world," said Laster who has devoted her life to global awareness of human slavery.
"HereWomenTalk, based in Myrtle Beach, SC, was founded to affect the lives of women everywhere," said Kay Van Hoesen, founder. "We had no idea how much we could accomplish in such a short time. This amazing case involving the rescue of a victim and her beloved kitten, a group of determined women, a brave girl, and the internet is proof of virtually limitless possibilities." The "Social Radio Network" was launched in June this year.
Lisbeth is now contemplating tattoos to cover scars from years of mutilation. The first tattoo she wants? 9/15/2010, her first day of freedom.
When human trafficking stories like this are told, they normally come from foreign countries. This happened in America.
###