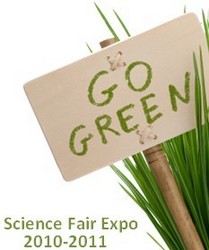 This is not a science fair contest because no hypothesis, project research, experiment, data collection or conclusions are required
Evanston, IL (PRWEB) September 20, 2010
When it comes to ideas for saving the planet, science students of all ages are increasingly coming to the forefront. To encourage these efforts, the website http://www.super-science-fair-projects.com is sponsoring the Free Online International Go Green Science Expo K-College a virtual science exhibition open to students all over the globe who are encouraged to "Pay It Forward.
"This is not a science fair contest because no hypothesis, project research, experiment, data collection or conclusions are required," says website director Madeline Binder. "The Go Green Science Expo is about students finding imaginative ways to leave less of a carbon footprint.
"Then we want these young scientists to 'pay it forward' by contacting up to three people and asking them to participate in the same or similar effort for three months," she adds. "That's it!"
The deadline for entries is May 30, 2011. There will be one first-prize winner in each of three categories:
Primary (Grades K-4). Winner receives the Alternative Energy Snap Circuit Kit. Prize donated by Elenco, Inc.
Middle School (Grades 5 - 8). Winner receives the PicoTurbine Savonius v2 Plus Educational Wind Turbine & Solar Kit w Multimeter. Prize donated by PicoTurbine International, Inc.
High School thru College. Winner receives the Solar Hydrogen Education Kit. Prize donated by Horizon Fuel Cell Technology, Inc.
A bonus cash prize of $25 will be given to winners who add a video to their entry. All entrants receive an award certificate and a specially designed T-shirt.
Classrooms invited to participate. In addition to the individual prizes, a Renewable Wind Education Kit for PEM Fuel Cell Solar & Wind Energy will be awarded for a project designed by an entire classroom.
As part of the expo, participants must write a report of at least 500 words detailing what they did and the results of their actions. "You are not going to be judged on the length of your report but by the effort and quality of the contribution," Ms. Binder says. "Each science project will be judged on originality and how well the idea was implemented, documented, and presented."
For contest rules and an entry form, go to http://www.super-science-fair-projects.com/science-fair-contest.html.
###