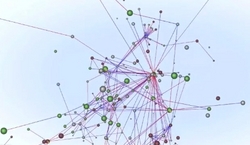 Politicians need the ability to interpret data quickly. Spiral16 has 3D web visualization, so clients can see a snapshot of the data and understand the big picture at a glance.
Kansas City, MO (PRWEB) September 20, 2010
Internet monitoring is a growing trend in managing political campaigns. Being able to know what's being said, who is saying it, where and how that information is being used, and where it is so clients can respond quickly and effectively is critical and often times the difference between success or failure.
Spiral16 software is used by major brands and corporations for Internet monitoring but CEO Tracy Panko says their software is extremely valuable in political campaigns and sought after by savvy political strategists.
"Politicians need the ability to see and interpret data quickly. The powerful thing about Spiral16's tool is our 3D web visualization in that it allows clients to see a snapshot of the data and understand the big picture at a glance."
"We created a video to illustrate how our visualization—called Virtualization— is used to follow a political campaign. In this example, we use the U.S. Senate race between Republican Roy Blunt and Democrat Robin Carnahan."
The Virtualization video can be viewed on the Spiral16 website.
SEEING IS BELIEVING
Virtualization tracks how messages are spread by visualizing web pages as green, red, or gray spheres. The data points assigned are those colors according to the sentiment of the page. The lines between them represent page links.
Spiral16's Virtualization allows users to quickly identify key influencers and authoritative voices online who are spreading a positive, negative, or neutral message about a topic across the Internet. Spiral16's Virtualization feature also allows researchers to see exactly where sentiment originates as well as how "influential" or "connected" that particular source is. In short, it takes the guesswork out of what's being said, and by whom, and gives strategists powerful tools when it comes to managing campaigns.
Panko says that the Virtualization feature is a big plus for candidates in tough political battles:
"Many of the 2010 political races are very close and politicians are looking for any edge over their opponents. There is no doubt that an effective digital strategy can be the key to success and tracking your progress along the way can be the difference in capturing the attention of the millions of voters online."
CONTACT
Eric Melin
Spiral16 Marketing Manager
eric.melin(at)spiral16(dot)com
913-944-4500
http://www.spiral16.com
If you are a member of the press on a deadline, please contact Shelly Kramer or Michelle Lamar of V3 Integrated Marketing.
Call Shelly Kramer at 816-665-7500
Call Michelle Lamar at 816-590-7043
Email (info(at)v3im(dot)com)
V3 Integrated Marketing (http://www.v3im.com)
# # #