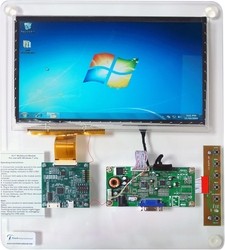 The touch screen developer kits give our customers a chance to test-drive the technology and integrate it into their application to ensure it is the right fit for their product
Austin, TX (Vocus) September 20, 2010
Global touch screen manufacturer and touch technology developer, Touch International, announced today the release of its Touch Screen Developer Kits. Allowing customers to easily test and evaluate touch technologies, these developer kits help engineers to choose the right touch screen for their project and streamline the prototype development process.
"The touch screen developer kits give our customers a chance to test-drive the technology and integrate it into their application to ensure it is the right fit for their product," explains Robert Spencer, Vice President of Sales for Touch International. "These kits also allow customers to begin software development for their project prior to finalizing the prototype design which can shorten the product's time to market."
Touch International's 10.1" MulTI-Touch Projected Capacitive Developer Kit is the first kit available in the series. The single piece, plug-and-play unit consists of a touch screen mounted to an LCD and a touch screen controller conveniently mounted on a backer board to ensure optimal performance and reliability. Allowing for up to 10-finger touch with full gesture capabilities, the MulTI-Touch developer kit works with water spray and accepts input from gloved and bare fingers and passive pens.
"The MulTI-Touch developer kits let customers get a feel for how it responds to different gestures such as expand, shrink, rotate and flick," says Spencer. "They can expect the same high-performance from their end product as what they see with the developer kit."
The Apple iPhone-type is often used in high-tech devices including military simulation equipment, in-flight entertainment and medical instruments.
MulTI-Touch Features Include:

Windows 7 Compatible
Signature Capture Capable
Multi-Touch Input (Up to 10-Fingers)
Works with Environmental Water Spray
Accepts Finger, Glove or Passive Pen Input
True Touch With Gesture (No Ghost Points)
Works with up to 3mm Thick Glass or Plastic Cover Glass
Hardware and Firmware Can be Modified to Meet Stringent EMI Standards
About Touch International
Global touch screen manufacturer, Touch International, was founded in 2002 by Michael Woolstrum and long-time veteran, Gary L. Barrett. Headquartered in Austin, Texas, Touch International is a world leader in touch screen and EMI filter technology. The company, with its partner DMC, Co. Ltd. in Osaka, Japan, operates seven manufacturing facilities worldwide with 1,200 employees. Touch International's China factories manufacture Apple iPhone-type projected capacitive touch screens, resistive sensors and glass filter products used in touch screens, EMI, anti-reflective or anti-vandal filters.
###