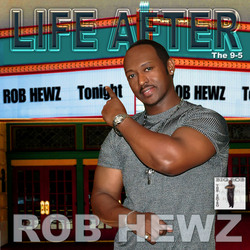 "I must confess that I have been given signs that the public is very interested in my music."
Arlington, TX (PRWEB) September 21, 2010
Direct Hitt/Twin Records is pleased to announce the release of the new Rob Hewz CD and video, Life After "the 9-5" available immediately at CD Baby and I tunes. The video will be included with the CD disc but is available for immediate viewing at Youtube.com and http://www.RobHewz.com. The video is based on Rob's signature tune "Why Can't We Just Get Along". The nine-song music collection includes a previously unreleased song entitled "Rock it Baby". Physical CDs are scheduled for release in early 2011 and will be available at brick and mortar music outlets for those who still desire packaged products.
Hewz actually released a CD in 2003 which received spins both via radio and club play. But at the time, with his primary focus on his day job, he had no time to concentrate on promoting his music. When asked why he has decided to follow his musical pursuits at this time, the artist had this to say:
"I must confess that I have been given signs that the public is very interested in my music. As a DJ, I've seen the positive response that my music gets and I've received great reports from other DJs as well. DJs, Promoters, and other individuals have also requested performances in their areas. While all that's great, you still have to deal with day-to-day life. It's not that I wanted to disappoint my fans, but I felt that it wasn't the right time to push in that direction. Now is the right time."
Rob actually started performing at the age of 9 and by the age of 17, he had played for audiences in clubs and had made his first professional recording.
Rob met his all time favorite band when he was 19 and was immediately offered a production deal after one of the three main band members heard the 3 song demo that he and fellow band members produced.
In the past, Hewz has been offered cars or other material objects to entice him to sign a recording contract, but once he stated that he was more interested in being paid for his music sales and that he wanted proper promotional support for his music, the contracts were never drawn up.
Rob conveyed that his belief is that everything works out for the best with patience. He recalled horror stories surrounding artists who hastily jumped into bad deals and often times were never able to recover. He shared that these types of circumstances, coupled with his expanded knowledge gathered over the course of more than 20 years, have made him willing and ready to take control of his own music career for himself and his fans.
Besides working a day job, Rob and his wife, Joy, owned and operated a DJ and Video production service. From those businesses, they learned to conduct and produce event videos. That combined experience led to the production of Rob's first music video.
Before this interview, a recent search for "Rob Hewz" yielded a link to an overseas web site that featured Rob's new video. The site is http://www.Tudou.com. This site happens to be the largest video website in the Republic of China. What stood out was the fact that, seamlessly configured alongside major artists from all over the world, Rob Hewz was found as the only artist featured on the music channel who was not represented by major backing. When asked about this accomplishment, this is what Rob had to say:
"The thing that really excited me was that out of all of the American artists that I saw on the music video channels which featured Ne-Yo, Tailor Swift, R Kelly, Usher, Trey Songz, Little Jon and others, I was the only one who was virtually unknown from the United States. That means a lot to me since this was an unsolicited addition into a very well known group of artists. Our video was produced on a budget of virtually zero dollars, but is being viewed in the same light as videos from major records labels."
Rob didn't know, at the time, that his management career was coming to an end. But in retrospect, he said he now realizes that the closer he came to being terminated, the more calls he started receiving concerning his music.
Rob further stated that it would have been very hard for him, or probably anyone else to just quit a steady job in pursuit of a new career considering, that most individuals simply find it easier to go with the flow of everyday life. A huge component of that day-to-day life is obviously the draw of a bi-weekly paycheck. Due to the current economic down turn, however; a significant number of Americans have been released from the bind of the daily grind. For Rob the question is, will people do something for themselves in this time, or will they return to their previous situation? For him, the answer is - not this time.
Rob acknowledged that there will be challenges and difficulties at every stage of life, regardless of how much money he has or how many people may come to know his name, but says that he has chosen to try his best to enjoy each day and remain faithful and humble. The main thing that he says that he would like to do is to encourage others to always remember to plant a little something for themselves along the way.
Rob's music and video can be heard and seen on his web site at http://www.RobHewz.com.
Become a fan of Rob Hewz on his Facebook page.
###