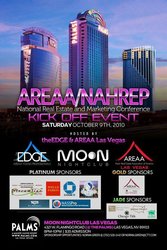 Advancing Market Recovery through Diversity Solutions
San Diego, CA (Vocus) September 21, 2010
StreamlineREO, a company providing user-friendly online real estate applications, announced that it will be a platinum level sponsor for the Kick-Off event at the 2010 NAHREP/AREAA National Real Estate and Marketing Conference at the Moon Night club located within the Palms Las Vegas.
As a pioneer in efficient, simple to use, web-based technologies, designed specifically to enable individuals, asset managers, and lenders with the ability to quickly and easily manage a diverse portfolio of properties, StreamlineREO is delighted to be part of this years' event. Be sure to visit our table at the Kick-Off party for a free gift, and an attendees' only code to get a discount on services.
The mission of both NAHREP and AREAA is to increase the rate of homeownership in their respective communities by educating and empowering practitioners who work with underserved home buyers. The 2010 conference titled "Advancing Market Recovery through Diversity Solutions" will be attended by Wells-Fargo, Chase, Freddie Mac, WJ Bradley, and more than 20 leading asset management firms. Both NAHREP and AREAA have a proven track record of community service, promoting sustainable home ownership, and creating a power national voice for real estate professionals serving their respective markets.
StreamlineREO is focused on providing online solutions that facilitate managing foreclosures, short sales, REOs, BPOs and more. "Based on topics to be presented at this years' conference, being a sponsor for the Kick-Off party was an easy choice," says Regina Ong-Garcia, Founder and CEO of StreamlineREO.
NAHREP and AREAA have gained widespread recognition among all the major players in the real estate market. Active participation in these organizations is beneficial to both seasoned professionals, and newcomers. The upcoming event in Las Vegas will give attendees a major leg up in today's rapidly evolving market.
Visit NAHREP and AREAA for more information. Agents/Brokers can visit our website at StreamlineREO.com, Asset Managers/Lenders please use the Contact Us form for more information.
ABOUT STREAMLINEREO:
Established in 2009, StreamlineREO is a San Diego-based Limited Liability Company certified woman, minority owned business. StreamlineREO is a software-as-a-service technology provider creating powerful, simple to use applications to support end to end solutions to default mortgaging servicing companies, asset managers, real estate agents and brokers. In addition to delivering full featured asset management and disposition workflow, StreamlineREO provides its clients with add on features and benefits including no-cost social media integration, online collaboration with vendors, personalized websites, online document storage and access from web-enabled mobile devices including iPhone, iPad, Blackberry and Android. The company focuses on creating solutions for asset and property management in residential, commercial and retail real estate properties.
For additional information about StreamlineREO, please visit our website or be part of our Facebook http://www.facebook.com/streamlinereo
Kelli Velde, kelli(at)streamlinereo(dot)com
STREAMLINEREO LLC
(858) 812-3336
###