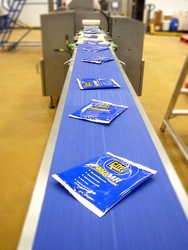 The facilities we have here are just amazing
(PRWeb UK) September 20, 2010
Sports nutrition specialist CNP Professional has moved to a purpose-built, 16,000 square foot manufacturing and warehouse facility in Hyde, near Manchester. The move has allowed the company to take as much as 70% of its manufacturing in-house, which it says will lead to even better sports products for its customers.
Meanwhile CNP's sales have grown dramatically during the past two years and the new warehousing increases the amount of stock it can hold, meaning it will be able to respond more quickly to customer demand.
CNP's success is due to its increasing appeal across a wide range of sports, from body building to cycling – the company now works with athletes in virtually every arena.
The move is part of a £2.2 million investment as CNP grows its sports nutrition business. "The facilities we have here are just amazing," says Kerry Kayes, who leads the nutrition team at CNP. "Not only in terms of the manufacturing and warehousing but also the labs and research capabilities. They've given us the opportunity to reappraise our formulas, to adjust and improve them, as sports science develops."
CNP is renowned for the quality of its products - for example, most protein supplements use a heat treatment in their manufacture that 'denatures' the protein, which means it's not only damaged but also harder for the body to digest. CNP uses undenatured protein in its premier supplements. They cost more to produce but, because they work better, they give athletes a real advantage.
"Along with better quality we try to ensure our supplements really taste good, so sportsmen and women can enjoy them," says Kerry Kayes. "We're now investigating ways to enhance both quality and flavours so that athletes can get even more out of the products.
"The new facilities also give us greater scope to develop new products to keep our customers at the forefront of their sport."
The majority of CNP's leading products are already being manufactured in house, including top sellers Pro Peptide, Pro MR and Pro MS, which are blends of fast- and slow-acting proteins.
Moving manufacturing in-house also means that CNP will be able to enhance quality controls and the company is currently working towards BRC (British Retail Consortium) and Informed Sport accreditation for its new factory. Kayes and his team are confident of gaining these since they actually specified the facility to the ultra-high standards required by the food industry.
CNP Professional is one of the UK's leading sports nutrition specialist companies. For more information visit http://www.cnpprofessional.co.uk, or call +44 (0) 161 368 0942 for sports nutrition advice and +44 (0) 161 368 3850 for sales.
Factory move.doc – September 10
Press enquiries: Toni Turner or Alison Haynes at The Publicity Works
Tel: +44 (0) 1263 761000 Email: cnp@publicityworks.biz
For more news about CNP Professional visit the press office at http://www.publicityworks.biz
Paul Riley, Marketing Manager, CNP Professional: +44 (0)161 368 3850
Photography is available in a choice of formats on request from cnp(at)publicityworks(dot)biz
Notes for editors
CNP Professional is a leading supplier of sports nutrition supplements including protein shakes, protein bars, creatine supplements, meal replacements, mass gainers, weight loss supplements and post work out shakes, all designed for the ultimate in sports nutrition.
Kerry Kayes, the founder of CNP Professional, is a former national bodybuilding champion. He has been involved in sports nutrition for many years and his dietary expertise has established him as 'the man in the know' to sportspeople worldwide. He advises athletes as varied as premier league footballers, rugby clubs, triathletes, round the world yachting teams, runners, boxers, cyclists and motor sports teams.
CNP Professional supplements are carefully formulated to ensure that the body is able to make best use of the nutrients. Unlike many nutritional supplements, CNP Professional's products are easy to drink.
There are several articles explaining protein nutrition supplements on the CNP website - go to the home page and click on 'nutrition' under the articles section.
###