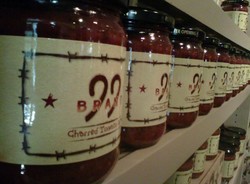 San Antonio, TX (PRWEB) September 22, 2010
The 99Brand Salsa recipe has been coveted by guests since the San Antonio resort began serving the tasty condiment almost 17 years ago. After giving out thousands of copies of the recipe, the resort's culinary team led by Chef Jeffrey Axell and Chef Troy Knapp perfected the recipe for mass production.
The San Antonio, Texas resort's 99Brand Charred Tomato Salsa is made from bushels of freshly roasted vegetables, including tomatoes, yellow onions and jalapeños which are roasted in the hotel kitchen and then immediately delivered to a local bottling company where the finishing touches of fresh chipotle peppers, cilantro and other locally grown herbs are added. From start to bottle, it takes approximately 24 hours to make 500 jars of the elixir.
The Name
Texas began registering cattle brands in the 1830's, though many western counties did not begin brand registration until the 1870s or 1880s. D. G. Rogers, founder of the Rogers-Wiseman ranch, now home to the Hyatt Regency Hill Country Resort and Spa, designed the "99" brand and officially registered the mark in 1888.
Family legend states that D. G. chose the "99" after a passage in the Bible, where the question was asked, "If a man owns a hundred sheep, and one of them wanders away, will he not leave the ninety-nine and go to look for the one that wandered off?" This parable was directed at his son Henry, who preferred to spend time in town socializing with the rowdy "Hay Yard Bunch" in San Antonio's Produce Row to a hard day's work on the ranch.
We think they would both be pleased with the San Antonio resort's use of the 99Brand. D. G. would appreciate the hard work that goes into creating this one-of-a-kind flavor and Henry would appreciate having a great tasting salsa to take to his next party.
The salsa is the first in a trilogy of products that will be labeled under the 99Brand. A barbeque sauce and dry rub are in production and will be available for the holiday season. The 16oz. jars are available in the hotel's General Store for $6.
About the Hyatt Hill Country
The Hyatt Regency Hill Country Resort and Spa is located on 300 scenic acres in the heart of San Antonio and features 500 guestrooms, 58 suites and 43,000 square feet of meeting space. With four restaurants, a lounge and coffee bar, guests can enjoy superb epicurean dining or cocktails with colleagues overlooking a lushly landscaped 27-hole Arthur Hills-designed golf course. Amenities include a four-acre waterpark with three swimming pools and a 950-foot Ramblin' River, as well as, Windflower - the Hill Country Spa with 21 treatment rooms and spa services using all natural products and botanicals. For reservations or information, visit http://www.hyattregencyhillcountry.com .
# # #