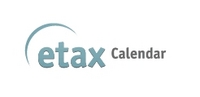 These tools harness the power and intelligence of technology to minimize the complexity of tax to let them do just that. No longer do tax professionals have to worry about complex scheduling issues or numerous tax deadlines – eTaxCalendar takes care of that for them
Sarasota, FL (Vocus) September 20, 2010
Red Moon Solutions, a premier provider of specialty tax software solutions, is proud to introduce the first open source risk management and tax calendar solution for corporations and CPA firms eTaxCalendar is a powerful, yet affordable tool that allows users to manage data efficiently and effectively while also managing tax risk and improving internal controls. http://www.redmoonsolutions.com/solutions/e-tax-calendar/
"In developing this tool, we had one primary goal in mind – to create a powerful risk mitigation tool for corporations, CPA's and accounting firms that easily integrates into any operating system, anywhere in the world." says CEO Shedivy. "Missing one deadline can cost a company over one-hundred thousand dollars in Federal penalties. We created eTaxCalendar to assure tax professionals that their workflow is organized, secure, and easily accessible."
Essentially, eTaxCalendar is an easy to use cloud computing software with a robust feature set that allows tax professionals to efficiently manage all tax and non-tax obligations for an unlimited number of corporate clients and/or legal entities across all jurisdictions. This includes Federal & State Income Tax, Property, Payroll, and Sales & Use tax, as well as custom obligations or other dates end users want to track all in one place.
eTaxCalendar allows users to eliminate multiple spreadsheets, manual processes and errors while trying to schedule, organize and manage all corporate tax filings, extensions, payments, revenue adjustments, audit requests and annual returns.
"We want to help our clients spend time on what's important; spending time developing and implementing top notch tax strategies and nurturing client relationships." comments Kelley Lear, Managing Director, Red Moon Solutions. "These tools harness the power and intelligence of technology to minimize the complexity of tax to let them do just that. No longer do tax professionals have to worry about complex scheduling issues or numerous tax deadlines – eTaxCalendar takes care of that for them," adds Lear.
About Red Moon Solutions
Red Moon Solutions empowers tax professionals with the solutions they want, including Fixed Assets Manager, AuditRoom, eTaxCalendar, Like-Kind Exchange Matching, and Section 382 Built-In-Gain Solution. Red Moon is flexible, providing solutions to Fortune 500 companies and small businesses. With customizable options, Red Moon's client-based software consistently excels. Experience it: redmoonsolutions.com.
Red Moon Solutions, LLC
Live Oak Office Center
2201 Cantu Court
Suite 118
Sarasota, FL 34232
Contact: Kelley Lear
Red Moon Solutions LLC
800.224.1260
###