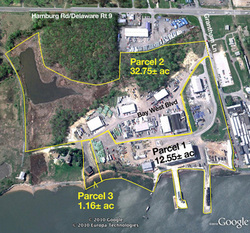 Opportunity knocks, but won't beat your door down, stated Auction Manager Laura Whitt
New Castle, DE (PRWEB) September 21, 2010
Higgenbotham Auctioneers International announced recently that they have been engaged to offer at auction a 43.40± acre industrial complex on the Delaware River. The auction will take place at 2pm, Tuesday, September 28 on location. The property, located at 314 Bay West Boulevard in New Castle, is offered in three parcels and as a whole. 29.69± acres will be offered absolute to the last and highest bidder, with no minimums and no reserves.
Located just a mile from the Delaware Memorial Bridge, the complex is perfect for investors and end-users alike. Parcel 1 boasts 1,150'± of frontage on the Delaware River as well as two 40'± cement piers and a main warehouse with 60'± ceiling heights. Parcel 2 has a current income stream with multiple tenants in place; it will be offered absolute to the last and highest bidder! Parcel 3 offers a river-front residence situated on 1.16± acres. "Opportunity knocks, but won't beat your door down", stated Auction Manager Laura Whitt. "Don't miss this incredible opportunity to buy only at auction a property with great location and income stream with tenants in place " she concluded.
This property is located in the historical Deemer's Beach area of New Castle, at the intersection of Route 9 and Grantham Rd. The auction will be held on site at 314 Bay West Blvd. Internet bidding is available for those unable to attend the live auction. Pre-registration will be required to participate via the Internet, visit higgenbotham.com for details and registration.
For more information on this or other Higgenbotham auctions, contact Laura Whitt at 800-257-4161 or visit higgenbotham.com.
About Higgenbotham Auctioneers:
Founded in 1959, Higgenbotham Auctioneers International utilizes the auction method of marketing to sell real estate and personal property throughout the United States and the world. Higgenbotham's success is attributed to the company's stellar track record in marketing unique properties. The firm enjoys continuing relationships with Fortune 500 clients such as Alcoa, Wal-Mart Realty, and 84 Lumber, as well as many other publicly traded and closely held companies.
###