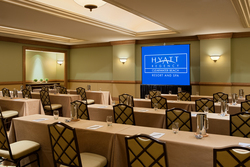 Our goal in establishing Elite Certification was to compile a peer-rated resource that recognized those properties that represent the best of the best, independent of affiliation
Clearwater, Fla. (PRWEB) September 22, 2010
Hyatt Regency Clearwater Beach Resort and Spa is pleased to announce that it has been awarded Elite Certified status by Elite Meetings International (EMI), an innovative company that offers tools to assist top planners in researching the best properties for meetings and incentives throughout North America.
Elite Certified status is granted by EMI's Elite Meetings Advisory Board, a distinguished body comprised of corporate meeting planners and hospitality executives. The board considers the resorts and hotels based on a demonstrated commitment to providing an exceptional group experience. A number of criteria factor into the advisory board's assessment, including the arrival experience, accommodations, meeting and event facilities, activity options, food and beverage, and most importantly, service.
"Our goal in establishing Elite Certification was to compile a peer-rated resource that recognized those properties that represent the best of the best, independent of affiliation," says EMI CEO Kelly Foy. "We're proud to offer Elite Certified status to this Clearwater hotel and resort. Our endorsement reflects our belief in the exceptional standards that visiting groups can expect."
"With 32,000 square feet of indoor and outdoor function space, our Clearwater hotel and resort will be the area's premier resort for functions," said Nancy Longstreth, director of sales and marketing, Hyatt Regency Clearwater Beach Resort and Spa. "To have our resort be recognized by both industry veterans and those who will do business at our property is a true acknowledgement of our hard work."
ABOUT HYATT REGENCY CLEARWATER BEACH RESORT AND SPA
Hyatt Regency Clearwater Beach Resort and Spa is scheduled to open in February 2010. The resort's 250 guest suites will blend tropical elegance and a luxurious carefree experience like none other on Florida's west coast. Breathtaking Gulf views will provide the backdrop for expansive floor plans ranging from deluxe to one- and two-bedroom beach suites. Each suite features a full kitchen and balconies or rooftop terraces. Amenities include a swimming pool with 20 air-conditioned poolside cabanas, an exclusive beach club and multiple dining options offering local seafood and Pan-Latin fusion dishes to healthy grab-and-go items. The resort will also offer a full-service Hyatt Pure Spa, Camp Hyatt kids club as well as 12,000 square feet of indoor and 20,000 square feet of outdoor function space for premier beachside events. http://clearwaterbeach.hyatt.com .
###