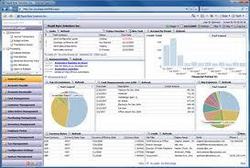 Acumatica is priced by server, so businesses with many users distributed throughout the world, can involve their entire organization without the expense associated with buying user licenses or installing and maintaining software."
Minneapolis, MN (PRWEB) September 22, 2010
Boyer & Associates, an ERP solutions company, and Acumatica, a provider of cloud ERP software, today announced their partnership.
Acumatica's cloud based ERP software is ideal for customers who want the flexibility to deploy on a company owned server or purchase the software as a service (SaaS).
Acumatica's SaaS solution runs on the Microsoft Windows Azure platform and reduces costs by eliminating customers' need to manage complex hardware, software, backups, and upgrades. Businesses with offices worldwide can use a single installation of Acumatica to manage their entire global business in multiple languages.
"Acumatica provides our customers with advanced financial features that can be customized for their individual needs," said Jack Boyer, President of Boyer & Associates. "Acumatica is priced by server, so businesses with many users distributed throughout the world, can involve their entire organization without the expense associated with buying user licenses or installing and maintaining software."
"We developed Acumatica to help value added resellers fill a gap in their portfolio of customer offerings," said Ezequiel Steiner, CEO of Acumatica. "By offering resellers a cloud and SaaS solution that they can sell using their existing expertise and business model, Acumatica provides more flexibility for customers with changing business requirements."
About Boyer & Associates and Acumatica
Boyer & Associates has been helping customers find software solutions for their business and accounting needs for over 16 years. Learn more about the right software solution and cloud ERP at http://www.boyerassoc.com.
Acumatica develops cloud based ERP software that can be deployed on premise, hosted at a datacenter, or run on a cloud computing platform. Learn more about Acumatica's cloud ERP solution at http://www.acumatica.com.
Watch a short Acumatica overview video .
# # #