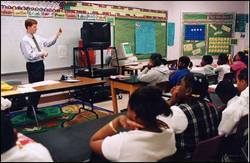 Achieve3000's ability to provide literacy instruction across the curriculum is also an essential part of transforming Arizona schools.
Lakewood, NJ (PRWEB) September 21, 2010
Achieve3000® has been selected as an authorized educational service provider by the Arizona Department of Education under the School Improvement Grant (SIG) program. Achieve3000 was among a limited number of companies approved in three categories of SIG including: Leadership Services, Curriculum Services, and Assessment Services.
As the leader in differentiated instruction, Achieve3000 has a proven track record of helping low-performing schools and school districts improve student achievement, establish results-driven instructional programs, and support the growing needs of teacher development.
Through an innovative literacy program that integrates technology and professional development, teachers and administrators become experts at delivering high-quality differentiated instruction and use data-driven decisions to provide remediation and guidance to students.
Achieve3000's ability to provide literacy instruction across the curriculum is also an essential part of transforming Arizona schools. Achieve3000 provides fully aligned, standards-based curricula for grades 2 to 12 that support the needs of Arizona students and numerous instructional models, including RtI.
Achieve3000 solutions provide schools and districts with resources that are easily integrated into the curriculum. With minimal training, teachers can easily impact student literacy, raise exit-level scores, and improve parental involvement. Participating schools will also benefit from formative assessments, automated scoring software, and extensive guidance from Achieve3000 experts.
"I'm excited about being an approved vendor for the state of Arizona," says Achieve3000 CEO and co-founder Saki Dodelson. "Expanding our presence to an even greater number of schools and districts means that more students and teachers can benefit from our industry-leading differentiated instruction solutions. This will improve student performance, teacher capacity, and overall school improvement."
Achieve3000 provides differentiated instruction for the state of Hawaii, large urban districts such as Chicago and Philadelphia, as well as rural schools, through School Improvement Grants, 21st Century, and Title 1 Funding.
About Achieve3000
Achieve3000 is the leader in online differentiated instruction, serving over one million students across the United States. Our Web-based literacy solutions are proven to increase reading comprehension and fluency, vocabulary, and writing proficiency for students in grades 2 to 12, and also for adult learners. Based on decades of scientific research, Achieve3000 solutions deliver engaging, nonfiction content that supports core curriculum, RtI, Special Ed, and other instructional models. KidBiz3000™ (grades 2-5), TeenBiz3000® (grades 6-8), Empower30000™ (grades 9-12), and Spark3000® (for adult learners) are aligned with Common Core State Standards for ELA as well as individual state standards. Achieve3000 supports 21st century education initiatives across content areas and is a member of the STEM Education Coalition. The company is based in Lakewood, N.J.
###