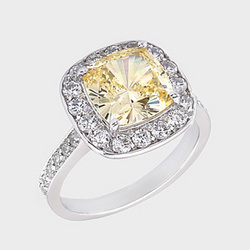 Yellow, gold, orange, and even brown are popular color themes for September, October, and November brides
New York, NY (Vocus) September 20, 2010
Birkat Elyon, the best source for high-quality cubic zirconia jewelry online, announces its fall wedding jewelry collection for bargain-shopping brides. Cubic zirconia wedding and engagement rings, pendants, earrings, necklaces, and bracelets offer brides the opportunity to look like princesses on their special day without paying princess prices.
Fall is here and many newly-engaged women are planning autumn weddings. Fall inspires as many color choices and themes as summer and Christmas weddings. "Yellow, gold, orange, and even brown are popular color themes for September, October, and November brides," says Rebecca Daniel, Birkat Elyon's senior designer. "And of course, pearls are a traditional favorite – in white or in the more modern gray."
Cubic zirconia jewelry is the perfect alternative to diamonds for today's cost-conscious – and cruelty-free – brides. [High-quality cubic zirconia is indistinguishable from diamonds to the naked eye and cost savings are so significant that brides are able to purchase larger stones in fancier cuts than if they bought diamonds. And of course, there is no such thing as "blood cubic zirconia," which means that brides are assured that the environment and people were not harmed or abused in the creation of their jewelry. "Birkat Elyon cubic zirconia jewelry can be worn with pride in its beauty, as well as a clear conscience," says Ms. Daniel.
And of course, cubic zirconia isn't just the best choice for the bride – the wedding party will look glamorous and extravagant, without the high price tag, wearing cubic zirconia pendants, necklaces, bracelets, and earrings. Brides who prefer a little color in their own or their attendants' jewelry should consider yellow cubic zirconia jewelry – it's the perfect color for fall. "Yellow cubic zirconia is extremely flattering to women with warm skin tones," says Ms. Daniel. "When worn by the women in the wedding party, it contrasts with and highlights the bride's jewelry." Whether for a mother, mother-in-law or for bridesmaids, CZ jewelry from Birkat Elyon makes both the perfect fashion accessory, as well as a gift they will treasure and use for a lifetime.
The classic look of pearls, paired with cubic zirconia for more sparkle, is yet another favorite option for brides who don't want to compromise quality and beauty for their budgets. In white or gray, pearl and cubic zirconia jewelry adds elegance and style and is a popular favorite for evening weddings. "Pearls are a great choice for women with cool skin tones, but they complement everyone because of their iridescence," says Ms. Daniel.
Birkat Elyon's fall wedding jewelry collection offers budgeting brides numerous opportunities to personalize their wedding days for less. For information about selecting quality cubic zirconia jewelry for your fall wedding, call Birkat Elyon.com at 877-77-8352.
###