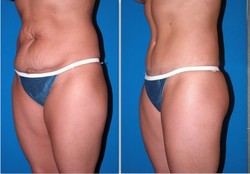 I've had patients tell me that they look better now, after surgery, than they did even before having kids.
Minneapolis, MN (PRWEB) September 22, 2010
The recent issue of People Magazine features Kate Gosselin, the mother of eight children and reality TV fame, displaying her fit and trim beach body. She has had a well-publicized tummy tuck (Abdominoplasty) in the past to help repair some of the changes to her body due to her pregnancies. She credits much of her current lean appearance on a healthy diet and exercise. Kate's phenomenal figure is prompting many women, especially those unable to get back to their pre-pregnancy look, to consider Plastic Surgery. Dr. Robert Wilke, a board-certified plastic surgeon with Edina Plastic Surgery and a body-contouring specialist, discusses the Mommy Makeover.
Dr. Wilke states, "The Mommy Makeover is not really a specific surgical procedure. It is a term that's been applied to a combination of procedures to restore a woman's body to her pre-pregnancy shape. Typically, this involves a tummy tuck, maybe some liposuction for further shaping, and often a breast lift or augmentation. We are working to correct the physical changes that occur from pregnancy. The Mommy Makeover can be one of the most dramatic procedures in Plastic Surgery. I've had a lot of patients tell me that they look better now, after surgery, than they did even before having kids."
The tummy tuck procedure involves the removal of excess skin and fat from the abdomen. There is an inevitable scar extending across the lower abdomen, below the bikini line, and a scar around the belly button. These scars are permanent, but often fade to the point of being almost imperceptible. Dr. Wilke notes, "We do everything in our ability to get very minimal scars. There is some variability, however, in how people scar. Sometimes they practically disappear, but some people will produce scars that are a bit more visible." Kate Gosselin credits a good diet and lots of exercise for her great shape. Dr. Wilke also notes their importance, stating, "I couldn't agree more. I always tell patients that we can get a good improvement with surgery, but to have a truly great shape, you need to maintain a healthy diet and get regular exercise. On the flip side, no matter how much you work at it, there are some things that diet and exercise can't fix. A million sit-ups won't get rid of abdominal skin that has been stretched and damaged by pregnancy. Only surgery will do that. I see so many people in consultation that are doing the right things, but they've just hit a plateau. They're not seeing any more improvements, and that's when surgery can really help them."
Other procedures are often performed during the same surgery in the Mommy-Makeover. The most common are breast augmentation and/or lift. "This can be such a powerful combination", says Dr. Wilke. "The combination of abdominal contouring with breast shaping can really transform a woman's body." Dr. Wilke does add one note of caution regarding this. "We want to get the maximum benefit that we can for each patient, but we still need to be smart and safe about it. There is definitely a point in which it is too much surgery, so we as Plastic Surgeons need to be willing to draw a line and not take risks attempting to do too much." It is recommended that people considering this type of surgery do some research, and seek a consultation from one or more board-certified Plastic Surgeons.
About Dr. Wilke
Dr. Robert Wilke is a board-certified Plastic Surgeon that specializes in surgery of the breast, body contouring, and facial plastic surgery. He is originally from Wisconsin and graduated summa cum laude from Illinois Wesleyan University in 1986. He graduated with honors from the University of Wisconsin Medical School, and then completed a residency in General Surgery at the University of Wisconsin Hospital and Clinics, where he also completed a fellowship in Plastic Surgery. In 1997 he joined Edina Plastic Surgery, a practice that is renowned as a leader in Minnesota plastic surgery for the past 30 years.
# # #