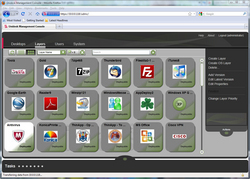 "We frequently get requests from faculty members to install new applications on short notice. In the past, we've had to say 'maybe next semester.'" Matt Thacker, Durham Technical Community College
Marlborough, Mass. (PRWEB) September 21, 2010
Colleges and universities are becoming big users of virtual desktop infrastructure (VDI), with many leading-edge schools implementing Unidesk® to ease the process and reduce the cost of rolling out their virtual desktops. Five new customer implementations are underway since Unidesk began shipping this summer, including Central Michigan University, Durham Technical Community College, the University of Maryland, the University of North Texas Dallas, and Université de Rennes 2 in France. These educational institutions are using Unidesk to quickly provision desktops in computer labs and deliver any type of application to faculty and student end users, including custom and high-end applications for different fields of specialty.
At Durham Technical Community College, Network Technician Matt Thacker says virtual desktops can be easier to manage than physical PCs, but managing multiple images can be problematic without the proper VDI management tool. One Durham Tech Developmental Math lab has virtual desktops with 24 separate images. "Many of our 47 labs across campus have similar desktops, but others have custom desktops with specialized autocad or other high-end applications that can't be easily virtualized," said Thacker. "We frequently get requests from faculty members to install new applications on short notice. In the past, we've had to say 'maybe next semester.' " Thacker says Unidesk, which is being used at Durham Tech with Pano Logic's zero client platform, "will change the lives of our tech support managers." Thacker estimates that Unidesk will reduce managing Microsoft Windows operating system images, virus patches, and upgrades from days or weeks to hours.
Unidesk is fast becoming the key management platform for VDI for enterprises of all types, particularly colleges and universities that need to reduce the operational costs of desktop management, estimated at as much as four times the cost of desktop acquisition. University labs are typically labor-intensive because each class can require a different application, or professors may need test applications or other last minute software to be installed to meet course requirements.
Unidesk's Composite Virtualization™ desktop layering technology separates the Microsoft Windows operating system, applications and user customizations into layers so that virtual desktops can be dynamically created and updated. Administrators can simply choose a common Microsoft Windows layer for all desktops, and then pick the application layers needed by each class. Every virtual desktop in the lab is instantly built to these specifications. Unidesk's unique approach of virtualizing storage eliminates the need to actually install Microsoft Windows or any applications, and ensures that operating system patches and application assignments always succeed.
Unidesk also reduces the cost of managing student, faculty, and staff desktops, which typically require a high degree of customization. All user-installed applications and plug-ins are stored separately in each user's own personalization layer, making it easy for desktop administrators to repair desktops by simply rolling back that layer to an earlier point in time. By keeping the Microsoft Windows and application layers intact, Unidesk reduces two hour desktop repair tasks to mere minutes.
Unidesk works with any VDI access solution, including VMware View™, Citrix® XenDesktop®, and Pano Logic.
According to David Haynes, Vice President of Sales at Unidesk solution partner Data Connections, Inc., who sold and implemented Unidesk at Durham Tech, "With Unidesk you have a true VDI management platform that meets the needs of end users and IT. While some tools address image management pain, only Unidesk lets you have a single instance of Windows and single instances of your applications for serious storage reduction, while maintaining all the changes users make. This combination of IT efficiency and support for end user personalization is a great leap forward for VDI, particularly in education, where cost reduction is key. We're finding that Unidesk and Pano Logic are the perfect pairing for organizations in search of cost-effective, simple, yet flexible VDI."
About Unidesk
Unidesk (http://www.unidesk.com) provides the virtual desktop management software platform that enterprises of all sizes require for desktop virtualization success. The company's patent-pending desktop layering technology extends virtual desktop solutions from VMware, Citrix, and other vendors to sustain personalization for workers who need a customizable user experience, while empowering IT with efficient management of operating system and application updates. Unidesk customers benefit from increased worker productivity and reduced IT operations and data center storage costs. Unidesk is a privately-held company with headquarters in Marlborough, Mass.
Unidesk® is a registered trademark and Composite Virtualization and CacheCloud are trademarks of Unidesk Corporation. All other trademarks and registered trademarks are property of their respective owners.
###