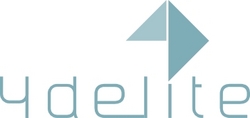 The hassle of coding HTML5, SVG, or Javascript is gone.
San Francisco, CA (PRWEB) September 21, 2010
Cloud-based rich media publishing platform 4delite has added Mojiva to its roster of turn-key partners. Now, marketing partners of Mojiva, the fastest growing mobile advertising network, can use 4delite to easily create rich media mobile ads (HTML5-friendly formats), without any heavy lifting.
"Creating mobile ads has typically been costly for advertisers," said CEO and Co-Founder Eugene Walden, "By giving their customers access to 4delite, Mojiva can be more of a one-stop shop for mobile ad campaigns. The hassle of coding HTML5, SVG or Javascript is gone."
"4delite's Turn-key Partner Program is an ideal way for us to extend value to our customers who look to us for easy-to-use tools and techniques to develop mobile ad creative," said Dan Goikhman, Co-Founder of Mojiva.
4delite also offers licenses and subscription packages to enterprise customers on a monthly basis for agency seats.
"In just one year, the mobile advertising industry has exploded from $416 million in 2009 to $1 billion this year. Both Mojiva and 4delite are focused on providing solutions and infrastructure to help advertisers increase their returns from mobile," concludes Mr. Walden.
Mojiva (http://www.Mojiva.com) is a mobile advertising company that owns and operates the fastest growing mobile advertising network, currently reaching more than 41 million unique users monthly through mobile web and app display advertising. The Mojiva network gives brand marketers and publishers everything they need to efficiently run targeted mobile display advertising campaigns within premium mobile content on any mobile device, including iPhones, iPads and other tablet devices. Founded in May 2008 and based in New York City, Mojiva has grown faster than any other advertising platform, and currently helps advertisers reach their target mobile audiences in 190 countries.
Mojiva recently closed a $7 million second round of venture funding led by UV Partners and existing investors Bertelsmann Digital Media Investments, the venture capital arm of the international media company Bertelsmann. In its first round in 2008, Mojiva raised $3 million, primarily from Bertelsmann.
mOcean Mobile (http://www.mOceanmobile.com), a subsidiary company of Mojiva, Inc., is the leading independent mobile ad serving and analytics platform, currently managing billions of ads for mobile websites, ad networks and applications. Clients and partners include The Rubicon Project, Polar Mobile, The Star Tribune and News Over Wireless.
4delite (http://www.4delite.com) offers a cloud-based rich media publishing platform, the first self-service solution for advertisers who want to create exportable rich media ads that work across mobile and web platforms, including the iPhone and iPad. The angel-funded start-up based in San Francisco was founded by a trio of Silicon Valley veterans: Eugene Walden, Andy Laursen and Mary Ray.
###