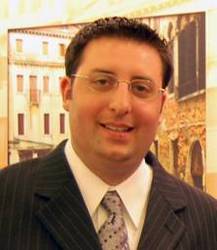 The Monthly Travel Insurance Sales Tip
E. Hartford, CT (Vocus) September 21, 2010
Travel Insured International has promoted Isaac Cymrot to the position of Director of Sales and Industry Relations, effecitve immediately. The announcement was made by Travel Insured's President and COO Jon Gehris. Cymrot takes on his new national responsibilities having most recently served as Travel Insured's Northeast Regional Sales Manager since being promoted to that role in October of 2009.
Since joining Travel Insured in April of 2005, Cymrot has been recognized for his sales success both within Travel Insured and across the travel agency industry. His first assignment with the company was as Midwest Regional Sales Manager, after which he was assigned to Regional Sales Manager for the Mid-Atlantic in 2006. In late 2007, Cymrot created his popular column called "The Monthly Travel Insurance Sales Tip," which has been delivered each month by newsletter and, more recently, by direct-to- travel agent Emails on a continuing basis. In September 2008 Cymrot was named the Top Travel Insurance Sales Representative by readers of Travel Agent Magazine, and in the same 2009 poll he became the first travel insurance rep to be voted among the industry's top three for two consecutive years.
After his promotion to Northeast RSM in 2009, Cymrot managed Travel Insured's industry partnerships from Maine through Virginia, while also playing a key role in helping educate the company's partners on the selling details of the updated line of Worldwide Trip Protector Plans introduced in spring of 2010. In his new position, Cymrot will direct the sales efforts of Travel Insured's Regional Sales Managers nationwide.
"Since joining our sales team five years ago, Isaac has demonstrated his ability to successfully perform at each level of increased responsibility," said Jon Gehris. "We are confident that Isaac's travel insurance knowledge, sales skills and determination will help our team and industry partners."
Agents and other travel industry professionals can reach Isaac Cymrot by dialing Travel Insured at 1-800-243-3174 extension 135. He can also be contacted by Email at: icymrot@travelinsured.com
About Travel Insured International
Travel Insured International, based in E. Hartford, CT, was founded in 1994 by the foresight of insurance industry executive Peter Gehris when he acquired the travel protection division of the Travelers Insurance Company. Coverage is underwritten by Arch Insurance Company (a Missouri corporation, NAIC #11150) with executive offices located in New York, NY. Arch Insurance is rated A ("Excellent") for financial strength by the insurance rating service A.M. Best. Not all insurance products or coverage is available in all jurisdictions. Coverage is subject to actual policy language
Travel Insured International
52-S Oakland Ave.
E. Hartford, CT 06128-0568
Contact: John Stone
Media Relations Manager
1-800-243-3174 x 117
http://www.travelinsured.com
###