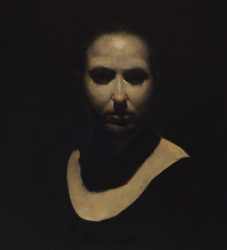 In some parts of the world, confessing sins and paying penance comes with a price
Austin, TX (Vocus) September 27, 2010
Large as life digital photographs transposed from lens to paper create a new medium of expression for the international artist Ray Donley, whose latest exhibit, "Terminal Confessions" will debut at Russell Collection Fine Art Gallery in November. The acclaimed representational artist is celebrated for his exploration into the more mysterious side of human nature. His brilliant paintings and photography evoke a darker and reflective state of mind, featuring undertones of mythical and symbolic meaning.
Ten new 5 x 3-foot photographs in an archival pigment print, all photographed and styled by Donley himself will be available for purchase for the first time ever. The exhibit "Terminal Confessions" explores the concept of confessions that might carry a greater gravitas – a mortal risk, such as death.
"In some parts of the world, confessing sins and paying penance comes with a price," says Donley, "this exhibit explores the inner dialogue of our own confessions and what consequences may come of them."
True to form, the exhibit will also feature pieces that involve many of Donley's signature elements: masks, hats, capes and the ever mysterious eyes – objects that frequently appear in his masterful works.
Since 1981 Donley has been exhibiting in museums, universities and galleries within the U.S., Europe and Mexico. With two degrees in art history from The University of Texas, Donley has concentrated much of his studies on the Baroque period. Mr. Donley has acquired an almost cult-like following, creating a highly intelligent kind of representational art capable of drawing the viewer in and, sometimes just as quickly, turning the viewer away. In all of this Mr. Donley seeks to express, as Beckett expressed, something compelling about the human condition. Additional images can be seen on his website.
"Ray Donley: Terminal Confessions" will be on display at Russell Collection Fine Art on 1137 West Sixth Street, from November 2-30, 2010. An Opening Reception and personal appearance from the artist will take place on Friday, November 12, from 6-9 p.m. This event is open to the public and an RSVP is requested.
Gallery owner Lisa Russell is looking forward to his new medium, "I've worked with Ray for many years and have always wondered about the subjects in his paintings. Many of them are mysterious and contemplative – the digital photography allows us to see what the artist sees before he begins his work, it's a unique perspective for the viewer."
WHEN: November 2-30, 2010. The Opening Reception is slated for Friday, November 12, from 6-9 p.m. where Donley will make a personal appearance. Art will be available for acquisition and will be signed by the artist. RSVP requested for the Opening Reception: 512-478-4440.
Gallery Hours: Tuesday – Saturday 10-6.
WHERE: Russell Collection Fine Art, 1137 West 6th Street, Austin, Texas 78703, 512-478-4440
Media Contact: Darlene Fiske, (512) 331-7755.
###