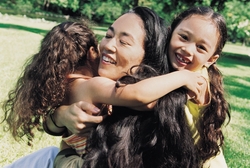 "Brands are counting on American moms to help them survive the current economic slump, but getting them to unleash their 'purse power' continues to be a struggle."
Newport Beach, CA (PRWEB) September 22, 2010
Though Warren Buffet recently ruled out a double-dip recession in the U.S., ultimately it's the country's moms who will decide when the economy starts showing real signs of recovery.
In the U.S., 75 million moms make or influence 85 percent of all household purchase decisions, representing $2.1 trillion in annual spending power. Brands are counting on American mothers to help them survive the current economic slump, but getting moms to unleash their "purse power" continues to be a struggle.
"As the chief purchasing officer of her household, a mom's influence impacts the purchase of just about everything, including housing, automobiles, consumer technology, travel, healthcare, food, finance and everything in between," says Linda Landers, founder and CEO of Girlpower Marketing. "A brand's efforts to understand the American woman's purchase behaviors are more critical than ever before."
Moms are putting brands, products and services under tight scrutiny, and making sure every dollar is spent wisely. According to a report by Allen & Gerritsen, 45 percent of moms insist they have "eliminated anything they don't feel is absolutely necessary from their lives," and another 29 percent having found ways to cut back on spending in response to the current economic climate. Marketers who want their products considered for purchase will have to work that much harder to stay in the game.
"Moms have always been more brand loyal than men, but they require frequent interaction and communications designed specifically for them," adds Landers. "Brands need to make the extra effort to build relationships with their female consumers, whether it's through social media, influencer recommendations or customer appreciation. They need to start marketing with moms, not at them."
According to a BSM Media Study, Moms focus on the needs of their families first, and then look for the smaller luxuries they can afford for themselves. Instead of a new pair of boots, in this economy it might be a new book or lip gloss. And while nesting was a social issue in the days following 9/11, today it's an economic one, with 81 percent of moms cutting back on eating out, and 72 percent reducing their out-of-house entertainment altogether, according to a recent USA Today/Gallup Poll.
For marketers, this means that moms are interacting with their favorite brands in new ways – like Starbucks only once a week instead of every day, or frozen pizza vs. delivery on Friday nights. Experts believe this state-of-mind will likely endure even after the penny-pinching days of the recession are over for many of America's families.
"The key to marketing with moms is providing the right message, and employing tactics that factor in the economy and their shopping preferences," says Landers. "Moms want to be assured they're making the right decisions for their families and the budgets. Content-rich websites that provide in-depth product information appeal to moms looking to make the best purchase decisions possible for their families. Moms also rely on recommendations and gain information by sharing feedback about their impressions of a product or service with their peers, so brands need to participate in the social media sites that their customers frequent. "
About Girlpower Marketing
Girlpower Marketing is a full-service public relations and marketing firm that helps brands engage more effectively with women. The Southern California- based firm is celebrating its fourth anniversary this month, and has managed projects and launches for such clients as University of Phoenix, Heritage Foods, Karen Neuburger, 8th Continent Soymilk, Mending Kids International, All About Baby, La Terre, Ltd., Nature Made, Sleep Studio, and many more.
Girlpower Marketing works with start-ups as well as established companies, helping them gain market share and leadership positions that positively affect their bottom line. The firm has also formed strategic alliances with other public relations and marketing agencies on behalf of their clients. For more information on Girlpower Marketing, call 949.459.1416 or visit http://www.girlpowermarketing.com.
# # #